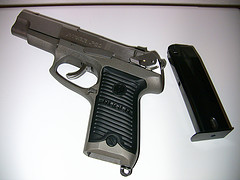 The recent case of the now former Philadelphia Eagle Josh Huff has sparked a number of phone calls to our law firm about permits to carry a concealed handgun in Pennsylvania and New Jersey. Sadly, people often assume that a permit to carry in one state like Pennsylvania extend that privilege to other states like New Jersey. This is simply wrong and could lead to a serious criminal charge if police stop you and you don't have the necessary permit. The Commonwealth of Pennsylvania (VUFA) and the State of New Jersey (Graves Act) both maintain strict gun laws but each jurisdiction treats a permit to carry a handgun differently.
Unlike Pennsylvania, most individuals aren't able to obtain a license to carry a handgun in New Jersey. New Jersey is known as a "may issue" state similar to New York, Delaware, Massachusetts, and Connecticut. This means that the Chief of Police for that city or county has the discretion to determine who can receive a permit to carry a gun. Any person who wants to carry in the State must make an application to the New Jersey State Police or local law enforcement. In addition to this application, the person must submit the names of 3 "reputable persons" who have known the applicant for 3 years and who can certify that the person is of "good moral character and behavior."
In addition to these requirements the applicant needs to obtain a permit to purchase a handgun or a Firearm Purchaser Identification Card. The applicant must also demonstrate "thorough familiarity" with the safe handling and use of a handgun through an approved firearms training course.
Finally, the applicant must show a justifiable need to carry a handgun. The applicant must indicate this need in written certification under oath. The need must show in detail the following:
An urgent necessity for self protection
specific threats or previous attacks which demonstrate a special danger to the applicant's life that can't be avoided by other than the issuance of permit to carry
Possible corroboration of threats/violence – Police Reports of previous incidents
Even if the applicant satisfies all of these requirements, a Superior Court Judge for that county in New Jersey must approve the issuance of the permit. If the permit is issued, its only good for 2 years and renewal applications are subject to the same requirements.
The bottom line is that obtaining a license to carry a handgun in New Jersey is extremely difficult, if not impossible.  The term "may issue" is really just another way of saying "wont issue." Pennsylvania, however, unlike the Garden State is a "shall issue" state similar to Virginia, West Virginia, North Carolina, Ohio and a large number of other states.
This means that while a person needs to obtain a license to carry a handgun, the Granting Authority (Sheriff or Police Chief (Philadelphia County) has no discretion to deny an applicant provided that he or she meets the necessary character and fitness requirements. Unlike New Jersey, there's no requirement that the applicant demonstrate "good cause" for the weapon. While an applicant in Pennsylvania doesn't need to demonstrate "good cause", law enforcement has 45 days to conduct an investigation into a person's background to determine eligibility.
It's obviously much easier to obtain a permit to carry in Pennsylvania than New Jersey. If you get a permit in Pennsylvania, however, it's not valid on New Jersey despite the physical proximity of the two states.   For more information about guns in Pennsylvania, I encourage you to visit my free download section
For those traveling, Pennsylvania, unlike, New Jersey does have reciprocity with the following states:
Alaska
Arizona
Arkansas
Colorado
Florida
Georgia
Indiana
Iowa
Kansas
Kentucky
Louisiana
Maine
Michigan
Mississippi
Missouri
Montana
New Hampshire
North Carolina
North Dakota(restricted)
Oklahoma
South Dakota
Tennessee
Texas
Utah(residency restricted)
Vermont
Virginia(residency restricted)
West Virginia
Wisconsin
Wyoming
Contact Our Criminal Defense Lawyers in PA & NJ
Please click here to contact our Philadelphia criminal defense lawyers. We offer free case reviews and serve the following areas in Pennsylvania and New Jersey,  Atlantic City, Camden, Cherry Hill, Chester, Conshohocken, Doylestown, Media, Norristown, Philadelphia, Pottstown, Salem, Upper Darby, Upper Merion, Upper Providence, Vineland & Woodbury areas.