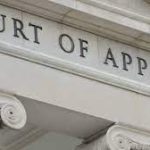 Have you, or a loved one, been wrongfully convicted of a crime in Pennsylvania or New Jersey? Do you believe you have grounds to appeal a court's ruling? If so, you have rights that need to be protected. These rights can only be protected through the use of a skilled and experienced criminal defense attorney handling appeals. It is important to understand the criminal appeals process in Pennsylvania and New Jersey before taking any steps as the judicial system in both states is very complicated. First and foremost, you must have solid ground for an appeal. How do you know if you have grounds for an appeal? Please contact our criminal appeals attorney for a free case analysis.
Grounds For Criminal Appeals in NJ & PA Can Include:
There was misconduct by law enforcement and or oversights by the Pennsylvania or New Jersey judicial system, such as:
• The judge refused to exclude tainted or otherwise inadmissible evidence
• Juror Misconduct
• Prosecutor misconduct
• The conviction is not supported by the evidence
• A lower court made a serious error of law, such as:
• Errors made by trial judge while instructing the jury
• Mistakes or incorrect rulings by the trial judge
• Sentencing errors including sentences in excess of legal maximums
If you believe any of these qualifying factors were present during your trial, you will need to contact our criminal defense appeal lawyers to help you with the process of filing your criminal appeal. Contrary to popular belief, criminal cases do not always conclude with a conviction.
Often, a case will continue after sentencing into the post-conviction stage. It is during this time that the defendant is able to ask the judge to either review the conviction or the sentence. At this time, the case may also move to a higher court for the criminal appellate process.
It is important to get a criminal appellate lawyer to help you with this process, because it gets very complicated, and you want to make sure everything is filed properly to give you the best chance for an appeal. An appeal cannot be filed until a sentence is imposed upon a defendant.
After a sentence is imposed, the defendant and their attorney have several options to challenge either the conviction or the sentence. The defendant and their attorney can file a notice of appeal with an appellate court, or file a motion asking the trial court to set aside the conviction, reduce or modify the sentence, or to request a new trial.
Appeals Cases That We Handle in Pennsylvania and New Jersey
Assault
Criminal defense
Drug crimes
DUI & DWI
Felonies
Gun crimes
Property crimes
Violent crimes
Weapons offenses
Contact A Criminal Appellate Lawyer Today
To discuss your case with our team of lawyers, contact us today. We will provide you with a free case analysis and explain your rights to you. In addition, we will be upfront regarding any legal options you have and what possible outcomes we can obtain for you. We proudly serve the entire Philadelphia area and the state of New Jersey.