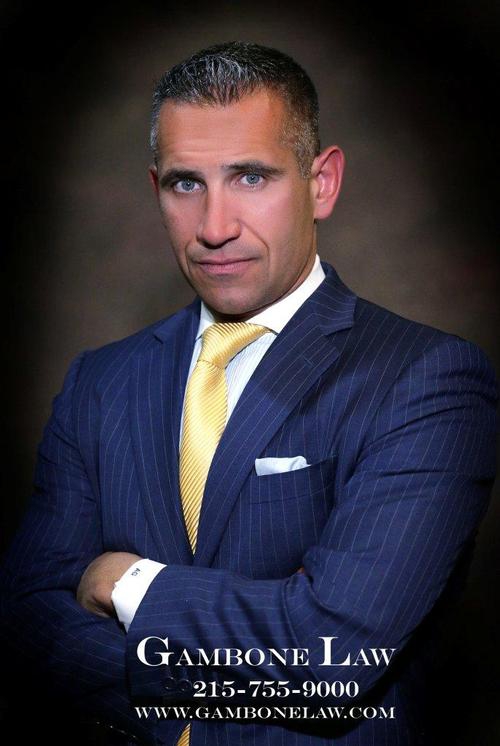 Alfonso Gambone, Esq. is an aggressive trial lawyer who has successfully represented individuals and organizations all over the world! His clients have included professional athletes, musicians, military officers, physicians, veteran small business owners, churches, single parents and children. He is the author of 5 books on criminal defense along with a monthly newsletter. In addition to these publications he has recorded over 100 instructional videos.
Prior to starting his practice, Mr. Gambone worked for a large law firm with literally hundreds of attorneys representing insurance companies and manufacturers all over the country. While he learned a great deal there, he wanted a career focused on representing people rather than institutions. He left the firm to start his own practice in South Philadelphia with exactly one client with a really bad case. The beginning was far from perfect but his hard work, persistence and determination paid off. In 2011, Mr. Gambone moved his practice to Center City Philadelphia to accommodate his rapidly growing number of clients. His practice remains there today but he stills keeps in touch with his very first client along with the more than literally the thousands he has represented since through a monthly newsletter and a bi-monthly E-Newsletter.
Aside from his accomplishments in the courtroom, Mr. Gambone is proud of his wide range of life experiences. He is a graduate of Saint Joseph's Preparatory School and received his undergraduate education from Villanova University. While in college he supplemented his undergraduate business education working weekends and holidays in Philadelphia's Italian Market, renting cars for Enterprise Rent-A-Car at the airport, making literally thousands of "cold calls" for Merill Lynch advisors in the evenings and even rowing on the University's crew team.
After college, he went on to earn his Juris Doctorate (J.D.) from Temple University's School of Law while working as a Marketing Analyst for a publishing company and still working weekends in the Italian Market. During his final year in law school he unloaded UPS delivery trucks on the overnight shift and interned at a civil defense law firm during the day when he wasn't in class. After law school and while awaiting his Pennsylvania and New Jersey bar exams results, Mr. Gambone worked as substitute teacher in some of Philadelphia's most troubled high schools. After passing both bar exams on his first attempt, he entered active military service, inspired by the country's response to the September 11th attacks. Following his Basic Course and the Army JAG School on the campus of the University of Virginia, he was stationed in upstate New York at Fort Drum with the 10th Mountain Division. An Iraq War veteran, Mr. Gambone served as the lead military prosecutor for the Division's First Brigade Combat Team in Baghdad's Western District. In addition to these duties he managed a 1.2 million dollar foreign claims program which took him to various locations government centers in and around Baghdad.
After completing his military service Mr. Gambone utilized the Post 9-11 Montgomery GI Bill, to earn a second graduate degree, a Master of Laws (L.L.M.) from Temple University while maintaining his growing trial practice. Mr. Gambone considers learning his lifelong passion and continues to supplement his formal education with an aggressive professional reading and writing schedule each morning following his 4:15 am workout. In addition to reading and writing, Mr. Gambone frequently attends professional conferences all over the country. He is an active member of The Philadelphia Bar Association, The Pennsylvania Association of Criminal Defense Attorneys, The American Legion, and the Veterans of Foreign Wars. Mr. Gambone also serves as At-Large Member of the Moorestown Soccer Club Board and the website administrator for the Moorestown Home & School Association
Personally, Mr. Gambone and his wife, Dr. Rita Carabello, a family physician, reside in Moorestown, Burlington County, New Jersey with their children, Alfonso Antonino and Flavia Grace. The Gambones are firm believers in traditional family values, their Catholic faith, continuous self-improvement excellence in education, and a high level of physical fitness. The couple has co-authored a book together–Strong – A Guide to Health & Estate Planning. They incorporate these principles into their personal and professional lives as well as the lives of their children.
Mr. Gambone is admitted to the following federal and state courts:
The Supreme Court of Pennsylvania
The Supreme Court of New Jersey
The United States District Court for the Eastern District of Pennsylvania
The United States District Court for the Western District of Pennsylvania[/one_fourth]
The United States District Court for the District of New Jersey
The United States Army Court of Criminal Appeals
The United States Court of Appeals for Veterans Claims
The United States District Court for the District of Colorado
The United States District Court for the Western District of Michigan
The United States District Court for the Western District of Tennessee
The United States District Court for the Southern District of Indiana
The United States District Court for the Western District of Arkansas
The United States District Court for the Eastern District of Arkansas