Criminal Homicide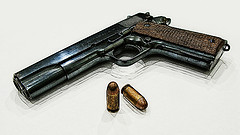 Our Philadelphia violent crime lawyers are frequently called upon to defend the criminal charge of homicide. Criminal homicide is classified into one of three categories: murder, voluntary manslaughter, or involuntary manslaughter. Criminal homicide is broadly defined as the intentional, knowing, reckless, or negligent killing of another human being. It is very important to understand that a murder is a form of homicide but not all homicides are murders.
Pennsylvania Murder Laws
First degree murder is defined as an intentional killing, while second degree murder is a homicide committed while the defendant was engaged in a felony (robbery, burglary, aggravated assault, etc.) as a principal (main actor) or as an accomplice—this is sometimes referred to as "Felony Murder." Third degree murder is any other type of intentional killing in which there is no evidence of other factors affecting the defendant's state of mind (heat of passion or criminal intent, for instance). The defendant's state of mind is often what distinguishes murder from manslaughter.
PA Voluntary & Involuntary Manslaughter Laws
Voluntary manslaughter is an intentional killing without any lawful justification committed while the defendant was acting under a sudden or an intense feeling (heat of passion) caused by the victim or another individual associated with a person who caused the state of mind. The law can also charge an individual with voluntary manslaughter when the defendant causes the death of another but believes at the time that his or her actions were justified. This is also called "the imperfect self-defense."
While murder is a felony, a sentence, following a conviction, is much higher than other crimes in this category (robbery, burglary, etc.). First degree murder carries with it a mandatory minimum life imprisonment and possible death, and second degree subjects the person to the same life sentence without the death penalty possibility. Third degree murder is less serious, but someone even with no prior criminal record still faces up to forty years in jail. Voluntary manslaughter, while still a felony, is far less serious than murder, and those with no prior criminal history could receive sentences of less than five years in state prison.
Pennsylvania Robbery And Theft Laws
Robbery is a theft committed by force. The degree of force is irrelevant when it comes to being accused of robbery, but it will determine the severity of the charge. First degree felony robbery is committed if the perpetrator inflicts or intentionally puts the victim in fear of serious bodily injury during the course of an unlawful "taking" (theft).
Second degree felony robbery is similar to first degree, but the "serious" term is removed from the definition. Third degree felony robbery is a theft committed with the slightest amount of force. Unlike a theft charge (taking without force), the value of the item taken is irrelevant. It is the force element that makes a theft a robbery.
Theft and robbery are separate offenses, but they are normally charged together and do merge for the purpose of sentencing following a conviction. Theft, similar to robbery, varies in degrees. A theft of an item or service over $2,000 is a felony of the third degree. All other thefts are misdemeanors (less than $50—misdemeanor of the third degree, $50 to $200—misdemeanor of the second degree, over $200 to $2,000—misdemeanor of the first degree).
Pennsylvania Burglary Laws
A person commits a burglary if he or she unlawfully enters a building or an occupied structure with the intent to commit a crime while inside the structure. If the structure is "adapted for overnight accommodations," and someone is actually present inside of it, the individual commits a felony of the first degree. In all other cases, burglary is considered a felony of the second degree. The law treats an unlawful entry into structures with a person inside more seriously because the theory is that the perpetrator preyed on a victim in a vulnerable state (i.e., sleeping) and/or entered a space in which a reasonable person should feel safe from harm. These structures are obviously not limited to homes and would also include such places as hotel rooms, campers, and virtually any other place in which a person could spend the night; they would not, however, include places of business (a felony of the second degree)
A typical defense to burglary is that the building or structure was abandoned at the time the individual entered it. In addition, the prosecution must demonstrate that the individual actually intended to commit a crime after entering the premises. Intent to commit a crime is often established through circumstantial evidence when there were no witnesses who observed the person committing the act.
Pennsylvania Criminal Trespassing Laws
In addition to burglary, the crime of criminal trespass is also a felony of the second or third degree based on the level of force used to enter the premises (break-ins are felonies of the second degree while all other types of entry are felonies of the third degree).
Criminal trespassing can also be a misdemeanor when a court finds that an individual is a "defiant trespasser" and simply entered the premises without permission or that he or she disregarded "no trespassing" or "do not enter" signs.
Aggravated Assault & Simple Assault
Unlike burglary and robbery, assault is sometimes classified as a misdemeanor (simple assault) and as a felony (aggravated assault). Similar to robbery, an aggravated assault is classified as a felony of the first degree if the perpetrator inflicted or threatened serious bodily injury. A second degree felony assault requires only bodily injury. The difference between a felony of the second degree and a felony of the first degree is the severity of the physical contact or the threat of it. Any physical contact (even the slightest touch) with a police officer is considered aggravated assault.
A simple assault is defined as an unlawful touching. If the unlawful touching causes an injury, however, the prosecution will likely charge both aggravated and simple assault. Simple assault is further classified based on its severity. Simple assault is normally a misdemeanor of the second degree unless it's committed during the course of a fight (third degree) or if it's committed against a child under age twelve by an adult twenty-one years of age or older (first degree).
Pennsylvania Sex Crime Defense Lawyers
Sex crimes are some of our most difficult cases. Someone convicted of a sex crime faces mandatory registration as a sex offender. This registration more than likely will continue even after the person is released from prison and could follow him or her forever.
By their nature, most sex crimes involve only two people, the alleged perpetrator and the alleged victim. The lack of other witnesses requires that we focus a client's defense on their interaction with the victim prior to the alleged act as well as the status of their prior relationship if any. We will investigate the victim's possible motive to lie, make things up, or seek retribution against our client. These biases may ultimately center on evidence about a victim's previous sexual conduct and reputation. As a general rule, however, opinion evidence about the alleged victim's past sexual conduct and reputation evidence about the alleged victim's past sexual conduct are inadmissible; this is commonly known as the Rape Shield law.
Exceptions To The Rape Shield Law
There are, however, exceptions to the Rape Shield law to accommodate an accused's right under the confrontation clause of the U.S. Constitution's Sixth Amendment, which guarantees the accused the right to confront the witnesses against him or her. This right allows a defendant to attack a witness's credibility by means of cross examination through his or her attorney. It is a delicate balance for a court to weigh in those situations in which there is evidence of an alleged victim's motivation to lie.
For example, Pennsylvania courts have consistently held that the introduction of a witness's prior statements regarding sexual conduct doesn't implicate the Rape Shield law if such statements are offered to challenge a complainant's credibility. Courts reason that such statements don't attack the complainant's reputation for chastity and are therefore admissible. Further, if the defense is not permitted to cross examine the complainant on these matters, it would prevent the accused from showing the existence of a possible ulterior motive on the part of the complainant.
If the defense theory involves an exception to the Rape Shield law, it must put the prosecution on notice through a motion indicating that intention. The trial court will determine if the evidence is admissible if it satisfies a three-part test:
Is the evidence relevant to the accused's defense?
Is the evidence merely cumulative of evidence otherwise admissible at trial?
Is the evidence more probative then prejudicial?
Relevant evidence is evidence that tends to directly casts doubt on the guilt of the accused by showing bias, hostility, or a motive to lie or fabricate on the part of the victim. The probative value outweighs the prejudicial effect when excluding such evidence frustrates the search for the truth of what actually happened. In other words, does the evidence make the ultimate issue in the case clearer to a judge or the jury?
How Our Philadelphia Violent Crime Lawyers Can Help You
A violent crime conviction, even a first offense misdemeanor, can disrupt many areas of your life. You may be facing probation, jail time or a prison sentence and a change in child custody status. If you have a history of violent crimes, gun crimes, drug crimes, DUI or DWI the legal penalties you face are even more severe. Do not go through this alone, attempt to represent yourself or ignore it and skip court. Not showing up for court will only result in a bench warrant being issued for your arrest. Let our Pennsylvania assault defense attorneys help you by building a solid defense and minimizing the consequences of your pending charges.
Contact Our Philadelphia Violent Crime Lawyers
Our Philadelphia violent crime lawyers handle all types of violent crimes, weapons charges, drug crimes, DUI and DWI charges in Pennsylvania. Please click here to contact them for a free case evaluation. Let them protect your freedom, rights and reputation.
Our Philadelphia violent crime lawyers are licensed in New Jersey & Pennsylvania. They serve the Abington, Atlantic City, Bethlehem, Camden, Cherry Hill, Chester, Doylestown, Easton, Fesaterville, Media, Norristown, Philadelphia & Upper Darby, PA areas.