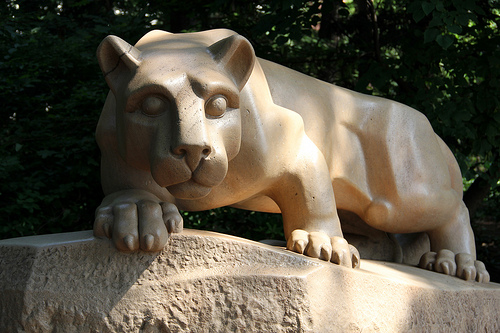 Recently, eight Penn State students were criminally charged in the death of a fellow student, Tim Piazza, following a fraternity pledge event. Piazza died due to a head injury, ruptured spleen, and collapsed lung, after he allegedly fell 15 feet down a flight of steps inside the fraternity house on February 2, 2017. The purpose of this blog however isn't to judge what occurred on that evening of this tragedy, but to provide answers to those who want to know more about this case from a criminal defense perspective.  In my review of this incident, I was able to narrow down five questions which I believe most people would want to know based on my more than a decade of criminal defense experience.
1.  How many charges are these students facing and what are the most serious offenses?
Each of these students was charged with 56 criminal counts under the following charges:
Aggravated Assault (1 count-F1)
Involuntary Manslaughter (1 count-M1)
Simple Assault (1 count-M2)
Recklessly Endangering Another Person (14 counts-M2)
Hazing (14 counts-M3)
Selling/Furnishing Liquor to Minors (14 counts-M3)
Furnishing Liquor/Malt Beverages (12 counts-M)
Purchasing Alcoholic Beverages by a Minor (1 count-S)
Of these criminal counts, the Aggravated Assault, graded as a felony of the first degree, is by far the most serious, followed by the Involuntary Manslaughter charge, which is graded as a misdemeanor of the first degree. Simple Assault and REAP, are graded as misdemeanors of the second degree, while the remaining charges of Hazing and Selling/Furnishing Alcohol to Minors are misdemeanors of the third degree or ungraded misdemeanors.
The maximum penalties for these offenses are as follows:
| | |
| --- | --- |
| Aggravated Assault—F1 | 20 years in state prison |
| Involuntary Manslaughter—M1 | 5 years in state prison |
| Simple Assault—M2 | 2 years in state prison |
| REAP—M2 | 2 years in state prison |
| Hazing—M3 | 1 year in state prison |
| Selling/Furnishing Liquor to Minors—M3 | 1 year in state prison |
| Furnishing Liquor/Malt Beverages—M | 1 year in state prison |
| Purchasing Alcoholic -Minor—S | 90 days in state prison |
2.  Could these students go to jail?
These students could absolutely go to jail, even if they aren't convicted of the most serious charge of Aggravated Assault. At this point, I am not sure if these students have prior criminal history. The prosecution and the defense will review the sentencing guidelines in this case. The sentencing guidelines are important because they will determine what type of offer the prosecution will make and the defense will also use these guidelines to determine the quality of that offer.
In Pennsylvania, sentencing guidelines for Aggravated Assault, graded as an F1, where the victim suffers serious bodily injury, like in this case, are 36-54 months in state prison. Involuntary Manslaughter, graded as a misdemeanor of the first degree, carries with it sentencing guidelines of 3-12 months of incarceration in a county facility as opposed to state prison. Simple Assault and REAP are graded as misdemeanors of the second degree and carry sentencing guidelines of probation to 1 month in prison. The remaining charges all carry probation based on the sentencing guidelines. While a judge is not obligated to sentence according to the guidelines, they are strong indications of the likely sentencs.
3.  How soon will this case go to trial? These students are scheduled for a preliminary hearing in Centre County on May 17, 2017. A preliminary hearing is not a trial but an initial hearing to determine if a Prima Facie case exists against the defendants. Basically at this hearing, a district court judge will have to decide whether it was more probable than not that a crime was committed and that these students committed this crime. The burden of proof at a preliminary hearing is substantially lower than at trial. Given the evidence in this case, it is extremely likely that all of these cases will be held for trial, but the hearing is important because their criminal defense lawyers will more than likely try to have the most serious charges dismissed following this hearing. The prosecution however doesn't have to establish a lot of evidence at the preliminary hearing level. It will be interesting to see if these defendants proceed with the hearing or waive their right to it. If these students waive their rights to a preliminary hearing, there's a very strong possibility that all of these cases will result in pleas and not proceed to trial. If the students actually proceed with the hearing, it is a strong indication that the defense is not interested in negotiating pleas in this case and believe that the prosecution can't meet its burden of proof for at least the most serious charges at trial.
The preliminary hearing is also an excellent opportunity for the defense to evaluate the strengths of pre-trial motions and the strength of some of the prosecutions witnesses'. While the prosecution isn't obligated to put on all of its evidence, it must put on enough evidence to have a judge rule that enough exists to hold the case for trial
4.  For the most serious charges, what must the prosecution prove?
Aggravated Assault is by far the most serious charge in this case. To prove this charge the prosecution must establish beyond a reasonable doubt that the defendant caused serious bodily injury intentionally, knowingly, or recklessly, under circumstances "manifesting in extreme indifference to the value of human life." A person acts recklessly in Pennsylvania when he or she consciously disregards a substantial and unjustifiable risk that a result will occur from his conduct.
Involuntary Manslaughter, which is graded as a misdemeanor of the first degree in this case, requires the prosecution to establish beyond a reasonable doubt that as a result of doing an unlawful act (Hazing or giving alcohol to a minor) in a reckless or grossely negligent way, the death of another person occurred.
In this case it is alleged that Mr. Piazza died as a result of injuries which he sustained following a 15 foot fall within the fraternity house during a pledge hazing incident. Despite his injuries, members of the fraternity failed to call for emergency help until the next morning, which was 11 hours after the incident. According to recent news reports, some of the incident was captured on video surveillance, which was introduced to a Grand Jury prior to these charges being filed against members of the fraternity. Video actually showed Piazza struggling to move on his own and at one point attempting to stand but only to fall face first into the hardwood floor. The video also allegedly shows members of the fraternity stepping over his body, and another member even filming the struggling Piazza on the floor. It is alleged Piazza fell a total of 3-4 times; the video also shows members of the fraternity attempting to shake Piazza and prop his limp body up on a couch. A toxicology report indicates Piazza's BAC level was .40, which is almost 5 times the legal limit.
5.  If they are convicted, how will a judge determine their sentence?
If these members are convicted of these charges, a judge will determine the sentences based on the sentencing guidelines. A judge will use the sentencing guidelines regardless if the case proceeds to trial or the defense and the prosecution are able to negotiate a plea. Defendants also have the option to plead open in front of a judge. This means that the judge would determine the sentence following arguments from the prosecution and the defense. The prosecution will argue for aggravation while the defense will argue for mitigation of a sentence.
For more great information on criminal defense defense topics in Pennsylvania and New Jersey, keep reading our blog and visit our free download section