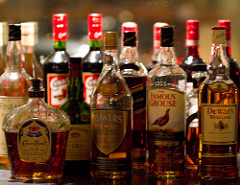 The recent Wildwood Beach incident involving a 20 year old Philadelphia resident has caused many of our readers to ask questions about how New Jersey addresses underage drinking and the possession of alcohol by a minor. Obviously most of our readers know that the legal drinking age in New Jersey, like any state, is 21, so the first element which the state would need to satisfy is proof that the person charged is actually underage. This, however, is not difficult and likely not a major issue in most of these cases. In New Jersey, any person who is under the legal age who knowingly possesses alcohol without legal authority (exemption for employment purposes) commits a disorderly person's offense and is subject to a minimum fine of at least $500. See 2C: 33-15(a).
Driver License Suspension & Underage Drinking
If this offense is committed in a motor vehicle, the court can suspend a person's driving privileges in the state of New Jersey for 6 months. If the person is a New Jersey resident, the court can take the license in court. If the person is not a New Jersey resident the court does not have the power to take the license but can notify that person's home state of the conviction. Under the Interstate Driver's Compact, many states, including Pennsylvania, through PennDot, can and will honor the New Jersey conviction and suspend the person's driving privileges in their home state in addition to actually taking the person's license. See 2C: 33-15. If the person commits the offense but has not yet reached the age of 17, the state can impose the suspension and postpone the period when a person is eligible to receive a license or drive in New Jersey by 6 months.
How is Pennsylvania Different From New Jersey
Keep in mind, however, that a first offense underage drinking conviction in Pennsylvania carries with a 90 day license suspension and 1 year suspension for any second subsequent. Pennsylvania, unlike New Jersey, however imposes the drivers license suspension regardless of whether the offense occurs in a motor vehicle. Check out my article on this issue as our criminal defense law firm has represented a number of young adults in Philadelphia and it surrounding counties
Underage Drinking & Criminal Records in New Jersey
While it is a minor offense in New Jersey, it is, nevertheless, a criminal charge which will appear as a conviction on a person's record. The illegal possession or consumption of alcohol by a minor is a disorderly person's offense which more than likely will not subject the person to any type of jail but the maximum jail sentence for such an offense is 6 months. In addition, a person charged with this offense is eligible for Conditional Discharge under 2C: 36a-1. This program, however, is reserved for first time offenders and persons who have not previously participated in such a program either in New Jersey or another jurisdiction. Through the Conditional Discharge Program, the court may accept a plea without entering a Judgement or conviction or in the alternative, or suspend all proceedings and place a person in a probation-type status. This status cannot exceed the maximum penalty under the law which is 6 months. Pennsylvania also maintains diversion programs. Read my article
Keep in mind, however, Ms. Weinman isn't eligible for the conditional discharge program because of her prior criminal history which includes arrest for felony charges and criminal convictions for simple assault and recklessly endangering another person. In addition to a conditional discharge, a person with no prior criminal history in New Jersey is also eligible for a conditional dismissal under 2C: 43-13.1. Similar to the Conditional Discharge program, a conditional dismissal requires that the person have no prior criminal history which will include any previous convictions for petty disorderly, disorderly, or a crime under any law in the United States, the state of New Jersey, or any of other state like Pennsylvania. The following individuals are ineligible for the conditional dismissal program:
A person facing charges involving an offense against an elderly, disabled, or minor person

Domestic violence charges

Any offense involving driving or operating a motor vehicle while under the influence of alcohol or drugs (DWI)

Any disorderly persons offense under Chapter 35 or 36 (New Jersey's Criminal Code). Chapter 35 addresses any offense or crime involving controlled substances (drugs or narcotics—drug possession or possession with intent to deliver); Chapter 36 covers drug paraphernalia.
For more great information criminal offenses and defenses, keeping reading my blog!