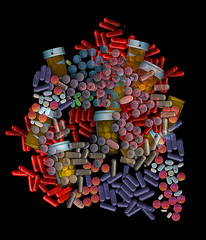 As I have written on previous occasions, there are crimes in New Jersey which carry with them the presumption of incarceration. These are crimes of the 1st and 2nd degree. In addition to these presumptions, there are also crimes within the Garden State which carry with them a mandatory minimum parole ineligibility term in which the person must serve a minimum time in state prison (i.e. Graves Act Offenses – Illegal Firearms in New Jersey).
It's important to understand that like Pennsylvania, New Jersey maintains a statute which enables the court to sentence a person to a period of probation despite periods of parole ineligibility. Under NJSA 2C: 35-14(a), the court on its own initiative or on the defendant's request, after considering all relevant information, may sentence a drug or alcohol dependent offender to a 5 year period of special probation if the offender isn't eligible for regular probation under NJSA 2C: 45-1 because the conviction carries a presumption of imprisonment or requires a period of parole ineligibility.
The court can only do this, however, if it finds the following factors on the record:
The defendant underwent professional diagnostic assessment to determine if he or she will benefit from treatment

The defendant is actually dependent on drugs and alcohol

The defendant committed the offense while under the influence of these drugs or alcohol or to acquire money or properties to support that addiction

The defendant will benefit from substance abuse treatment and monitoring and thereby reduce recidivism

The defendant didn't possess a gun or firearm at the time of the offense (Graves Act)
The defendant has not been convicted of 2 or more crimes of the 1st or 2nd degree

The defendant doen't have pending charges or a prior conviction or delinquency adjudication for a crime of violence which would include aggravated manslaughter, manslaughter, aggravated assault, aggravated sexual assault or sexual assault

The sentence of special probation will not pose a danger to the community

A suitable treatment facility has agreed to provide the defendant with appropriate treatment
The Presumption of Special Probation In New Jersey
There is a presumption of special probation for certain drug offenders regardless of what the defendant requests, if diagnostic testing concludes the defendant is a drug dependent person and the court concludes that the person is in need of treatment. A person is "in need of treatment" if it is determined that he is a drug dependent person as defined by NJSA 2C: 35-2 and has been convicted of a crime which is subject to a presumption of imprisonment or a 3rd degree crime but has been previously convicted of a crime where there is a presumption of imprisonment or a crime that resulted in a state prison sentence.
What are the Conditions of Special Probation In New Jersey
If a person is sentenced to special probation, there are mandatory conditions which the defendant must follow. These conditions include:
Enter the treatment facility

Comply with the program

Random drug testing

Comply with all of the reasonable terms and conditions that the court may impose

Contribute to the cost of treatment

Pay all applicable fines, penalties, fees and restitution
In some situations, where a person exhibits "exemplary progress" the court may, upon recommendations from the supervising probation officer, grant early discharge from the program under 2C: 35-14(1).
What Happens If You Violate Special Probation in New Jersey
If, however, a person fails to complete or comply with the program, the court may revoke the special probation and conduct a "De Novo Review" of any aggravating or mitigating factors present at the time of the original sentencing. The court may, at that point, impose a sentence that would have been imposed originally for the offense. In the event that the court does impose a term of incarceration a person will receive credit for time that they have already served in jail. Read my article on New Jersey time credit for more information on this topic
The following offenses carry with them a period of parole ineligibility in the Garden State. These crimes include the following:
Leader of narcotics trafficking network—NJSA 2C: 35-3 – requires the court to impose a life sentence with a 25 year of period of parole ineligibility

Maintaining or operating a controlled dangerous substance (CDS) production facility—NJSA 2C: 35-4 – requires parole ineligibility between 1/3 and ½ of the sentence imposed

First degree manufacturing, distributing, or dispensing (CVS)—NJSA 2C: 35-5(b)(1) – requires a period of parole ineligibility between 1/3 and ½ of the sentence imposed

Employing a juvenile in a drug distribution scheme—NJSA 2C: 35-6 – requires a period of parole ineligibility between 1/3 and ½ of the sentence imposed or 5 years, whichever is greater
If a person is ineligible for traditional probation they may qualify for special probation if they meet the other criteria stated above. For more information on drug crimes in New Jersey I encourage you to keep reading my blog.