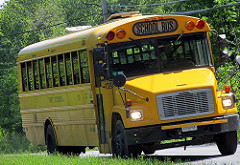 Similar to Pennsylvania, New Jersey imposes very harsh penalties on people convicted of selling or distributing drugs and other controlled substances such as heroin, cocaine, meth, and LSD, on or within 1,000 feet of school property or on a school bus. In New Jersey, a person convicted of selling less than 1 ounce of marijuana faces a mandatory minimum sentence of ½ to 1/3 of the sentence imposed or 1 year, whichever is greater. During this time a person is ineligible for parole. Marijuana however, is the drug which carries with it the lease consequences as all other drugs subject a convicted person to ½ to 1/3 of a sentence or 3 years, whichever is greater, without parole.
NJSA 2C:35-7, which is New Jersey's statute for distributing, dispensing, or possessing a controlled substance on or within 1,000 feet of school property or on a school bus. Outside of a school zone, under NJSA 2C:35-5, a person charged and convicted of selling 5 or more ounces of heroin, cocaine, meth, or 100mg of LSD, faces a sentence of ½ to 1/3 of a sentence imposed without parole.
With regards to school penalties, a New Jersey Superior Court (trial court) may waive or reduce the mandatory minimum sentence after considering the following factors:
Extent of a person's prior criminal record seriousness of the offense
Where the offense was committed in relation to the school and the reasonable likelihood of exposing children to drug related activity
Whether school was in session at the time
Whether children were present or in the immediate area
            The court, however, cannot waive the mandatory minimum sentence or the mandatory minimum period of parole ineligibility or even sentence the defendant to probation if it finds any of the following: 
The offense took place while on any school property used for school purposes which is owned by or leased by an elementary or secondary school or school board or while on a school bus or
The defendant, in the course of committing the offense, used or threatened violence or possessed a weapon.
Drug offenses on or near school grounds constitute a 3rd degree crime and a fine of up to $150,000.00 may be imposed. "School property" in New Jersey is defined as any building or lot owned or leased by any primary or secondary school. School property also includes nursery schools, colleges, or adult vocational schools. The burden is on the state to prove the property is used for school purposes "regularly, consistently, and actually". For example, a field that is owned by the town but used by the school for sporting events does not qualify for the charge.
Contact Our Criminal Defense Lawyers in PA & NJ
Please click here to contact our Philadelphia criminal defense lawyers. We offer free case reviews and serve the following areas in Pennsylvania and New Jersey,  Atlantic City, Camden, Cherry Hill, Chester, Conshohocken, Doylestown, Media, Norristown, Philadelphia, Pottstown, Salem, Upper Darby, Upper Merion, Upper Providence, Vineland & Woodbury areas.