Former Philadelphia Flyer and Los Angeles King center Mike Richards has been charged with possession of a controlled substance – OxyContin by the Royal Canadian Mounted Police. The incident occurred at the Canadian/US border in Manitoba, Canada which connects to the United States through Pembina, North Dakota. While Mr. Richards will have to deal with the Canadian authorities for this charge, the arrest alone could hinder his ability to play professional hockey and perhaps even enter the United States.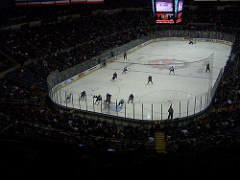 Prior to his arrest the Los Angeles Kings terminated Richards' contract because of a "material breach". The Kings were trying to trade Richards prior to the NHL draft but stopped seeking a trade once they learned of a criminal investigation. The NHL players association has filed a grievance on behalf of Richards because he has five years remaining on a twelve year contract with the team. While the NHL Players Association may successfully get Richards playing hockey again, the United States government may not let him in the country to get on the ice.
Immigration proceedings which determine whether a non-citizen, like Mr. Richards, should be permitted to enter the United States are known as "removal proceedings". Removal proceedings determine inadmissibility and deportability. Inadmissibility hearings are for people trying to enter the United States and deportability proceedings are for those already in the country but whom the government wants out.
The burden of proof in an inadmissibility hearing is on the applicant. In Mr. Richards' situation if the United States government attempted to keep him out of the country he would have to prove, by clear and convincing evidence, that he is entitled to be admitted to the United States. While a simple possession conviction for Mr. Richards will not necessarily cause him to be deported from the country it could prevent him from re-entering it if and when he goes back to Canada or any country to visit family, friends, or even for a vacation. The United States government doesn't have to present proof of a criminal conviction to keep a person out of the country. Federal law only requires the government to present evidence that a non-citizen is a potential drug addict or drug abuser to make them inadmissible.
The government can also prevent a non-citizen from entering the country if it can present proof that the person is a drug trafficker. In Richards' case he was stopped and arrested at or near the Canadian border connecting the United States. Even if the Canadian authorities only charged him with simple possession, there is strong circumstantial evidence that indicates that he was attempting to cross the border with drugs. In addition, the federal government could present evidence that Richards is a drug addict or drug abuser if either the Los Angeles Kings or the Philadelphia Flyers suspended or traded him because of a drug problem. The federal government could subpoena playing records and either organizations files on Richards to make its case.
While ultimately I believe that Richards will play hockey in the United States he and his attorneys must recognize that this drug charge could affect his professional playing status and his immigration status. Despite playing professional hockey in the United States for over 10 years, Richards remains a Canadian citizen and even represented Canada in the 2004 World Junior Championships, the 2006 World Championships, and the 2010 Winter Olympics.
Contact Our Criminal Defense Lawyers in PA & NJ
Please click here to contact our Philadelphia criminal defense lawyers. We offer free case reviews and serve the following areas in Pennsylvania and New Jersey,  Atlantic City, Camden, Cherry Hill, Chester, Conshohocken, Doylestown, Media, Norristown, Philadelphia, Pottstown, Salem, Upper Darby, Upper Merion, Upper Providence, Vineland & Woodbury areas.