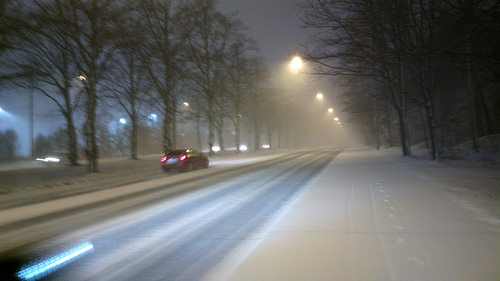 The first snow storm of 2018 has arrived and Philadelphia, South Jersey and the surrounding suburban counties are dealing with it as are the millions of it's residents. This bad weather not only creates a number of potential civil legal issues such as car accidents and slip and fall, it also creates situations that lead to potential criminal problems for some people. This weather frustrates many people and that frustration sometimes leads people to act more aggressively and do thing out of the ordinary.
This wintery weather also causes people to get out of their normal daily routine and engage in activities that they would not otherwise do during the work week like drink alcohol and even consume illegal controlled substances like crack cocaine, marijuana and even heroin. Our criminal defense law firm often receives phone calls following a major snowstorm from people arrested for behavior which is completely out of the ordinary. Here are just a few examples from our criminal defense practice.
Assaults & Snow Storms in Philadelphia
We've represented a Philadelphia father of 2 charged with aggravated assault, terroristic threat and simple assault following an incident over a parking spot in South Philadelphia during the blizzard of 2016. Remember that there are a number of instances where the "saving of spots" has led to criminal charges ranging from simple assault and terroristic threats to even murder in extreme cases.
A person commits a Simple Assault when he attempts to cause or intentionally, knowingly, or recklessly causes bodily injury to another person. A simple assault is also committed if an individual negligently causes bodily injury to another with a deadly weapon or attempts, by "physical menace" to put another in fear of imminent serious bodily injury. If you or a friend get into a fight with your neighbor over the spot in front of your home that you spent 2 hours shoveling, you may be charged with Simple Assault depending on the circumstances surrounding the fight.
You could also be charged with aggravated assault, a felony charge. An Aggravated Assault occurs if a person attempts to cause serious bodily injury to another or causes serious bodily injury intentionally, knowingly, or recklessly, under circumstances manifesting extreme indifference to the value of human life. Pennsylvania defines "Serious Bodily Injury" as an injury that creates substantial risk of death or which causes serious injury, permanent disfigurement, or loss or impairment of the function of any bodily member or organ.
Drunk Driving & Work Snow Days
We've represented a business executive who decided to have a few drinks in the afternoon while home from work. When the roads cleared, he thought he was fine to drive and ended up getting stopped for a Driving Under the Influence (DUI) in Montgomery County Pennsylvania. Remember that there is a difference between your impairment and your tolerance for alcohol. The fact that you don't feel drunk isn't an indication as to your level of intoxication. The legal limit for impairment in Pennsylvania and New Jersey is .08 and this is based on the level of alcohol in your blood not in the way you feel after consuming alcohol.
College Students & Possession With Intent to Deliver Drugs
Our law firm handled another case where a group of college students held a party at a fraternity house outside of Philadelphia when the University cancelled classes due to a snow storm. One the fraternity brothers brought marijuana and some other recreational drugs to the party. This University student was charged with possession with the intent to deliver (PWID) a felony offense in Pennsylvania while a number of party goers were charged with simple possession, a misdemeanor offense within the Commonwealth.
During this snowstorm, please keep in mind that there are a lot less people out and an increased police presence. Remember that police are not only focused on assisting stranded drivers but also ensuring that people don't create additional hazards by engaging in high risk behaviors such as fighting, drunk driving or using illegal drugs.
Stay safe and keep you cool during the Blizzard of 2018! If you would like learn more about criminal defense topics read one of my books or watch one of my videos. These are all available online and in the comfort of your home away from the snow