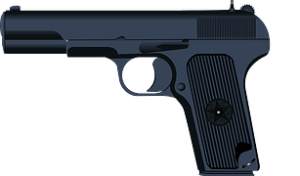 Pennsylvania's Uniform Firearms Act addresses all matters concerning the illegal use, possession, sale and transfer of handguns, shotguns and other firearms within the Commonwealth.  While most of our law firm's representation deals with allegations involving violations of Section 6105 (Illegal Possession of Firearm By a Prohibited Person), (Section 6106—Possession of Firearms without a Permit), and 6108 (Possession of Firearm in Philadelphia), we also handle matters pertaining to the sale or transfer of weapons.
Section 6111—The Sale or Transfer of Firearms—Felony and Misdemeanor Crimes   
Under Section 6111 (g) a person commits a crime, graded as a felony of the 3rd degree when he or she, in the connection of the purchase, delivery, or transfer of a firearm knowingly or intentionally makes any materially false oral, written, or furnishes or shows false identification which is likely to deceive the seller or dealer.  Section 6111(h) covers subsequent offenses and upgrades the criminal charge to a felony of the second degree
Remember that in Pennsylvania, much like in New Jersey, there is a huge difference to a felony offense and a misdemeanor. A felony, even of a 3rd degree, subjects a person to a potential 7 year state prison sentence. It's important to keep in mind that not only is the purchaser criminally liable for making a false statement but any person, including the licensed dealer who sells or transfers a firearm to any unqualified of ineligible person (prohibited person), knowingly or intentionally, commits a felony of the 3rd degree. In addition to the crime the licensed dealer will lose his or her ability to sell firearms within the Commonwealth for 3 years under Section 6111 (g). 
While this crime is graded as a felony of the third degree if the transferee (person receiving the gun or firearm) is prohibited person, it is Misdemeanor of the Second Degree if the transferee is otherwise eligible to purchase but the transferor doesn't comply with the other conditions of Section 6111 with regards to place of transfer, background checks, and the application. 
Questions of a Pennsylvania Gun Purchase Application
When a firearm is sold or transferred in Pennsylvania, the purchaser must complete an application which is sent electronically to the state police. This application will include the following questions:
Are you the actual buyer of the firearm as defined by Title 18, Section 6102?
This question specifically means that, unless you are purchasing the firearm as a gift for your spouse, a parent, child, grandparent, or grandchild, you are making what is considered a "straw purchase" within the Commonwealth.
PA's Straw Purchase (Bradley Fox) Law—Title 18 Section 6111(h)
The "straw purchaser" law in Pennsylvania, otherwise known as the Bradley Fox law which was enacted in 2013, not only makes it a felony of the 3rd degree but upgrades the charge to a felony of the 2nd degree for any subsequent offenses in addition to a mandatory minimum 5 years in state prison.  This law was named for a Plymouth Township Police Officer and veteran who was tragically killed in the line of duty.  The person who killed Officer Fox had received the weapon from a person who had purchased 9 others for him.  While Officer Fox's killer was not able to purchase these weapons, this person was able to do so with a clean criminal record.  This law specifically targets first time offenders who often purchase multiple weapons with no prior criminal history.  Prior to this law, if these persons were arrested and convicted, defense lawyers would use their lack of criminal history as mitigation at sentencing.  The mandatory minimum prevents this mitigation argument.         
How a First Time Offender Could Face a 5 Year Mandatory Minimum in Pennsylvania
Keep in mind that it is possible to receive the 5 year mandatory minimum sentence even if you have no prior criminal history if a person is charged with 2 separate gun offenses. For example, if the person is accused of purchasing multiple weapons for one or more person (Officer Fox situation) and is thereafter charged with these crimes, he or she is in a position for the mandatory minimum sentence. The Pennsylvania Superior Court has already ruled that the mandatory minimum sentence applies if the previous convictions exist at the time of sentencing.
For more information on Pennsylvania gun laws I encourage you to read my articles on violations of the Uniform Firearms Act 6105, 6106, 6110, and 6108. In addition to my former blog articles I encourage you to visit my free download section and download a copy of my book–What Everyon Should Know About Guns, Drugs & Defense Lawyers in Pennsylvania.