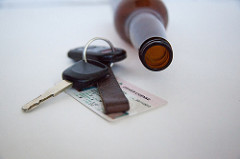 A DUI/DWI can happen to anyone and Tiger Wood's recent arrest in Jupiter, Florida is more proof of it. It's too early to say how Tiger's case will proceed but there is no question that his defense lawyer will take great deal of time reviewing the discovery in his case to determine possible defenses and pre-trial motion issues. The prosecution is obligated to provide discovery in all matters and this blog focuses on discovery issues in New Jersey.
New Jersey DWI Foundational Documents 
Our Philadelphia based criminal defense law firm often represents those charged with the offense of Driving While Intoxicated (DWI) in Southern New Jersey. Unlike Pennsylvania, DWI is a non-criminal offense but still subjects a person to a mandatory license suspension and up to 180 days in jail for a third offense in the Garden State. Discovery is a critical part of any DWI defense and the New Jersey decision in State v. Chun, 194 N.J. 54, (2008), requires the prosecution produce certain "foundational documents", which include the following:
Calibration Unit, new standard solution report, most recent change and the operator's credentials of the officer who performed that change;
Certificate of analysis .10% solution used in new solution report;
Drager Safety Certificate of Accuracy AlcoTest CU34 Simulator;
Drager Safety Certificate of Accuracy AlcoTest 7110 temperature probe;
Drager Safety Certificate of Accuracy AlcoTest 7110 instrument (unless more relevant NJ calibration records; including both 1 and 2 are offered);
Calibration check (including both Control Test and Linearity Test and the credentials of the operator/coordinator who performed the test);
Certificate of Analysis .10% solution (used in calibration-control);
Certificate of Analysis .04, .08, and .10% solution (used in Calibration-linearity);
Calibrating Unit, new standard solution, following calibration;
Drager Safety Certificate of Accuracy AlcoTest CU34 Simulator for the three simulators used in the .04, .08,.10, and .16% solution when conducting the Calibration-Linearity Test;
Drager Safety Certificate of Accuracy AlcoTest 7110 temperature probe used in calibration test;
Drager Safety, ERTCO-Heart digital temperature measuring system report of calibration, NIST traceability.
In addition to these foundational documents, the prosecution must also provide dashcam videos, MVR, police reports, and any documentation relating to field sobriety testing, and any exculpatory evidence.
The Defense Attorney Must Make the Motion
Your criminal defense lawyer must make a demand for these documents in addition to any other discovery which he or she believes exists in your case. It is simply not sufficient for a criminal defense lawyer to notify a municipal prosecutor of his/her obligation with a letter when this prosecutor fails to provide discovery prior to trial. The case of the State v. Holup, 253 N.J. Super, 320 (1992), specifically addresses this issue. In the Holup case, the defense lawyer was unable to have a case dismissed because of the prosecutor's failure to provide timely discovery. The New Jersey Superior Court, Appellate Division, affirmed the trial court's decision and didn't dismiss the case because of a discovery violation.
The Appellate Court specifically found that the defense attorney should of filed a motion with the Municipal Court seeking an order limiting the time for the production of discovery. This motion, which is now known as a "Holup Motion" would of specifically put the Municipal Prosecutor on notice that the failure to provide discovery would of led to a dismissal of the case. The court in Holup found that the defense attorney's prior letters to the municipal prosecutor were insufficient proof that he had made attempts to put the prosecution on notice of their obligation to provide timely discovery.
In New Jersey, Municipal Court prosecutors usually maintain private practice and there is sometimes confusion over whether the defense lawyer needs to send correspondence to the prosecutor's private practice address, or to his/her Municipal Court office. The Holup Motion is a great way to avoid this confusion and put the prosecution on notice of their obligation.
Requirement for a Holup Motion 
If your criminal defense lawyer wants to file a Holup Motion, it's important the he or she do so in writing and comply with New Jersey Rule 1:6-2. This Rule requires a lawyer to make the motion in writing and specify the time and place when the defense attorney will present it to the court along with the grounds for the motion and the relief sought through it. It's important to keep in mind that a New Jersey Municipal Court will not dismiss a case because of the prosecutions' failure to produce discovery without a Holup Motion.
Discovery issues, especially in DWI cases, can lead to multiple court appearances, lost time at work, additional legal fees, and transportation costs. All of this will increase the cost to defend your DWI. In addition to a Holup Motion, a criminal defense lawyer in New Jersey Municipal Court should also consider a Speedy Trial Motion, where the state, despite providing discovery, continues to request delays. The court will evaluate a Speedy Trial Motion based on the U.S. Supreme Court case of Barker v. Wingo, 407 U.S. 514 (1972). The court will consider the length of the delay, the reason for the delay, the defendants' assertion of the right, and whether the delay has caused prejudice to the defendant.
For more information on New Jersey DWI, please check out my previous blog posts.
Contact Our Criminal Defense Lawyers in PA & NJ
Please click here to contact our Philadelphia criminal defense lawyers. We offer free case reviews and serve the following areas in Pennsylvania and New Jersey,  Atlantic City, Camden, Cherry Hill, Chester, Conshohocken, Doylestown, Media, Norristown, Philadelphia, Pottstown, Salem, Upper Darby, Upper Merion, Upper Providence, Vineland & Woodbury areas.