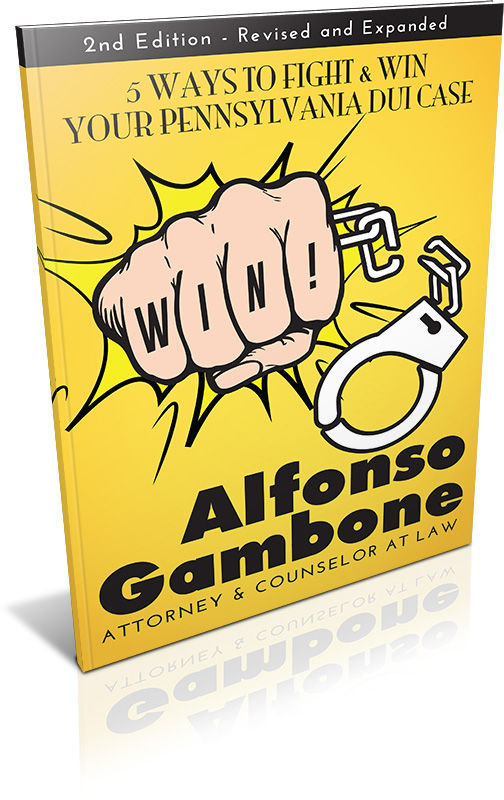 Recently our law firm represented a young man in the Bucks County Court of Common Pleas in Doylestown, Pennsylvania after his arrest on the charges of Driving Under The Influence of Drugs and Alcohol (Title 75 Section 3802), the illegal possession of controlled substance (Heroin) and driving while on a suspended drivers license (summary offense). While these charges weren't felony crimes, our client faced a one year mandatory minimum state prison sentence since this was his third DUI within 10 years. While our firm is based in Philadelphia, we represent clients many Pennsylvania counties including Bucks, Chester, Delaware and Montgomery as well as Southern New Jersey. For more information on DUI defense, I ecnourage you to pick up a copy of my free book.
Pre-Trial Motion To Suppress Evidence – Birchfield
Prior to the trial, we argued a Motion to Suppress the evidence of the arrest which included our client's verbal statements to police and his blood sample which were critical to the district attorney's case. In addition to that motion, our firm also filed a motion to preclude the introduction of blood evidence based on the Supreme Court's decision in Birchfield v. North Dakota; a case on which I have written many blog articles. Most of my readers recall that the Birchfield decision focused on the admissibility of blood evidence in drunk driving cases. In that decision the Supreme Court found that law enforcement could not draw an accused or suspected DUI person's blood without a search warrant based on a person's right against illegal search and seizure, which is found in Article 1, Section 8 of the Pennsylvania Constitution and the Fourth and Fourteenth Amendments to the United States Constitution.
While the Supreme Court decision did not specifically cite any decisions or cases in Pennsylvania or New Jersey, its important to understand that the US Supreme Court is the final authority in all matters which implicate a person's constitutional rights. While the Supreme Court in Birchfield indicated that law enforcement needed a search warrant to draw a person's blood, this decision does not apply to breathalyzer DUI testing.
Drunk Driving in Pennsylvania and Blood Alcohol Content (BAC)
Drunk driving in Pennsylvania and New Jersey is based on a tiered system in which the severity of a DUI increases with the level of a person's blood alcohol content or concentration (BAC), pursuant to 75 Pa.C.S. § 3802 (Pennsylvania) and NJSA 39:4-50 (driving while intoxicated – New Jersey – DWI). In Pennsylvania, for example, the lowest tier DUI is 3802(a)(1) which is General Impairment DUI. This doesn't require any blood or breath testing but is simply based on the officer's observations of an individual at the time of the arrest. In Pennsylvania, most assistant district attorneys (however) will seek the higher level DUI penalties which will require the introduction of blood evidence or a breath sample.
The Birchfield decision severely limits the prosecution's ability to introduce blood evidence without a search warrant and a defense attorney can prohibit the use of it through a motion to suppress evidence based on Article 1, Section 8, along with the Fourth and Fourteenth Amendments to the United States Constitution and the Birchfield decision.
Birchfield & The Consent Issue
While the Birchfield decision requires police to obtain a search warrant, the Pennsylvania and United States Constitution contain exceptions to the search warrant requirement. The most common one is consent. While there is considerable argument over whether or not a person can consent to what is already considered an illegal search (blood draw without a warrant), many courts in Pennsylvania have already ruled that a person's consent eliminates the need for the warrant, despite the Birchfield decision. This basically means that where the prosecution can show that a person was not under any type of coercion or duress, police do not need a search warrant for a blood draw. In these situations however, the Commonwealth (prosecution), bears the burden of establishing consent that is free of any duress, coercion (expressed or implied) or some type of over bearing conduct under a totality of the circumstances analysis. Some Pennsylvania courts will evaluate a person's consent based on the objective valuation of what a reasonable person would have understood by the exchange between the officer and the person who gave the consent.
Factors that a court will use to determine the voluntariness of consent include:
The defendant's custodial status
The use of duress or coercive tactics by law enforcement
The defendant's knowledge of his right to refuse to consent
The defendant's education intelligence
The defendants belief that no incriminating evidence will be found
The extent and level of the defendant's cooperation with law enforcement.
For more information on drunk driving defense in Pennsylvania and New Jersey I encourage you to keep reading my blog, watch my videos, and visit our free download section on the website.