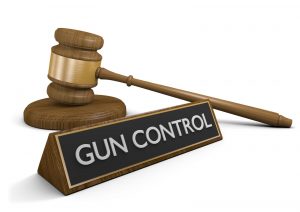 Our law firm represents individuals in federal and state courts for various weapons, guns, and firearms charges. Pennsylvania (Uniform Firearms Act), unlike New Jersey (Graves) and the Federal system, does not maintain many mandatory minimum sentencing guidelines for gun offenses (exception 6111-read my article). One of the most common mandatory minimum federal charges that our office handles is the violation of 18 U.S.C. § 924(c) – Carrying, using, or possessing a firearm in connection with a crime of violence or drug trafficking crime.
Mandatory Minimum Federal Gun Crimes
This offense subjects an accused to a mandatory minimum of 5 years to life in prison, without parole, and even a potential death penalty if death occurs from the use of a firearm. It's important to also keep in mind that any sentence for this charge must be served consecutive to any other sentence imposed. The mandatory minimum sentence increases depending on the type of firearm involved (machine gun), whether the gun was possessed, brandished, or discharged, along with the accused prior convictions. If an individual is charged with this offense, the government must first prove, beyond a reasonable doubt, possession of a firearm as it is defined in the United States Code, Section 5845 (Title 26).
Stolen Firearms & Federal Law
With regards to additional charges that an individual could face, a person in this situation more than likely acquired the weapon or gun illegally and federal law, like Pennsylvania and New Jersey state law prohibit the receipt, possession, or concealment of a stolen firearm under 18 U.S.C. § 922(j). Further, these offenses often occur in school zones which could lead to an additional charge under 18 U.S.C. § 922(q). While the person who buys or transfers a weapon may not necessarily be involved in the crime, these transferors face their own set of criminal penalties and potential mandatory minimum sentencing in the state of Pennsylvania (6111).
Illegal Transfer or Sale of Firearms & Federal Law (Prohibited Person Offenses)
It is illegal to transfer a firearm knowing that it will be used to commit a specified offense under 18 U.S.C. § 924(h). It is also a crime under the federal system and state to give or transfer a firearm with an obliterated serial number. It is a crime in and of itself to sell or transfer a firearm without a background check under 18 U.S.C. § 922(s).
Finally keep in mind that a prohibited person in the federal system includes any of the following:
A person convicted of a crime punishable by punishable by imprisonment for a term exceeding 1 year
A fugitive from justice
Drug user or addict—which can be shown by a recent conviction for use, recent possession of drugs, or recent arrest for use of drugs or positive drug test
Illegal alien
Dishonorably discharged from the military
Convicted of misdemeanor crime involving domestic violence
Subject to a court order prohibiting harassing, stalking, or threatening a partner (Pennsylvania—Protection From Abuse (PFA), New Jersey—Temporary Restraining Order (TRO), Final Restraining Order (FRO)-read my article regarding this topic)
For more information on federal gun crimes, I encourage you to keep reading my blog, visit my download section, and contact our office with your questions.