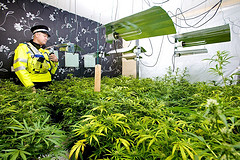 On April 17, 2016, Governor Tom Wolf signed Pennsylvania's Medical Marijuana Program into law. This makes Pennsylvania the 24thstate to adopt a Medical Marijuana Program. While the new law went into effect May 17th of this year, our Commonwealth won't make it available through state licensed dispensaries until sometime in 2018. Until that time, only caregivers of minor children who suffer from "a serious medical condition" as defined under the law will qualify to obtain medical marijuana and transport it into the state from another jurisdiction.
Pennsylvania is now accepting "safe harbor" applications for these infirmed minors but this provision doesn't cover adults in the Commonwealth. It's important to under who and what is covered under the new law to avoid either a misdemeanor criminal drug charge for simple possession or a felony charge for possession with intent to deliver (PWID). While a person charged with simple possession may qualify for the ARD program along with an expungement, a person charged and convicted of felony would not qualify for either and couldn't have their criminal record sealed.
While medical marijuana is now considered legal in Pennsylvania, there are a number of requirements for its legal consumption. To qualify for medical marijuana, a patient must have a terminal illness, suffer from cancer, HIV/AIDS or another qualified medical condition under the new law (a/k/a Act 16).
Other qualified medical illnesses or conditions include the following:
Amyotrophic lateral sclerosis,
Parkinson's disease,
Multiple sclerosis (MS),
Epilepsy,
Inflammatory bowel disease,
Neuropathies,
Huntington's disease,
Crohn's disease,
Post-traumatic stress disorder,
Intractable seizures,
Glaucoma,
Autism,
Sickle cell anemia,
damage to the nervous tissue of the spinal cord with objective neurological indication of intractable spasticity,
severe chronic or intractable pain of neuropathic origin,
or if conventional therapeutic intervention and opiate therapy is contraindicated or ineffective.
In addition to these conditions, the PA Department of Public Health can approve additional debilitating medical conditions. A patient who has a qualifying condition must, however, also obtain a doctor's certification to enroll into the program. The doctor is only permitted to issue a certification if the physician has a valid medical license and has completed a four hour course on medical cannabis. This physician certification must state that the patient is under the doctor's ongoing care and that the patient is likely to receive a therapeutic or palliative benefit from the medical marijuana.
Doctors aren't permitted to receive pay from or refer patients to a marijuana business, conduct an exam at a location where marijuana is sold or have any direct or indirect economic interest in a marijuana dispensary or a cultivator. Further, doctors aren't permitted to advertise in marijuana cultivation centers or dispensaries. Patients who qualify for medical marijuana may not do any of the following:
Grow marijuana
Drive under the influence of marijuana (DUI)
Give or sell marijuana
Possess marijuana on a school bus or on school grounds
Use marijuana in a public place
Smoke marijuana
Use dry leaf or whole plant marijuana
Utilize medical marijuana in any work place while performing dangerous activities
Purchase food or drink infused marijuana
While Pennsylvania has legalized medical marijuana for these qualified patients, the U.S. Department of Justice technically still has the authority to enforce civil and criminal penalties against is possession and use. It is unlikely, however, that the Federal Government will bring either civil or criminal action against growers, processors, dispensaries, physicians or seriously ill individuals or caregivers as long as they abide by Pennsylvania law.
The following are acceptable forms of medical marijuana:
Pill
Oil
Topical forms – gels, creams or ointments,
Vaporization or nebulization,
Tincture
For more information on drug crimes in Pennsylvania, I encourage you to visit my free download section, watch my videos, and continue to read my blog.