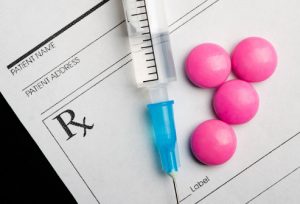 Our criminal defense law firm based in Philadelphia, Pennsylvania defends accused individuals charged with a variety of driving under the influence offenses (DUI). While most people believe that DUI involves alcohol only (drunk driving), there are many offenses under Pennsylvania's DUI statute which pertain to legally prescribed drugs and narcotics.
A person can still be convicted of a DUI in Pennsylvania and even if a drug is legally prescribed. In Pennsylvania under Title 75 Section 3802 (d1, d2, & d3) the law provides for penalties related to these substances.
Drug Schedules & DUI Offenses
I have written previous articles on the different drug schedules and it's important that a Schedule I drug (heroin, LSD, marijuana) is one in which there is no accepted medical purpose, while Schedule II (cocaine, morphine, oxycodone, Oxycotin, Percocet, methadone, methamphetamine, Adderall, & Ritalin) & III drugs (anabolic steroids, suboxone) have a medical purpose but are highly addictive. Schedule IV drugs include Xanax, valium, Ativan, & klonopin and aren't as addictive.
While any type of Schedule I drug found within a person's blood following an arrest for a DUI will more than likely result in a conviction, the same strict liability standard does not apply to legally prescribed Schedule II or Schedule III controlled substances.
Penalties For Drugged Driving In Pennsylvania
Under 3802(d)(2), and individual is under the influence of a drug or a combination of drugs to a degree which impairs that individuals ability to safely drive, operate, or be in actual physical control of a vehicle is guilty of driving under the influence (DUI). Keep in mind that such an individual is not only guilty of this offense but subject to the harshest penalties which are equal to those convicted of those drunk driving who have a blood alcohol concentration of .16 or higher [3802(c)].
A BAC of .16 is double the legal limit. In Pennsylvania, a person convicted of 3802(d)(1) or (d)(2) or 3802(c) faces a mandatory minimum license suspension, 3 days in the county jail, along with court costs and fines.
What Should You Do If You're Charged With Drugged Driving?
If you are charged with "drugged" driving in Pennsylvania, it's important that your criminal defense lawyer obtain the services of an expert witness who can testify as to the interaction of the drug, tolerance, and impairment. Even if the Commonwealth can establish, beyond a reasonable doubt, that your blood contained legally prescribed substances, it still must establish impairment, more than likely through the police officer's testimony. An expert can call into question the police officer's opinion. This expert witness can testify as to drug interactions, levels, and tolerances which can reduce or even eliminate any evidence of impairment.
If a recent arrest has you worried about your future, contact the Philadelphia, Pennsylvania criminal defense lawyers at Gambone Law now. Please click here to schedule an appointment in our Philadelphia office and find out how Mr. Gambone can help get you back on the road to success.
Our Philadelphia criminal defense attorneys are licensed in Pennsylvania & New Jersey. They serve the accused throughout the Philadelphia, Abington, Atlantic City, Bensalem, Berlin, Bristol, Camden, Cape May, Cheltenham, Cherry Hill, Chester, Conshohocken, Haddonfield, Horsham, Lansdale, Lower Merion Township, Maple Shade, Media, Mount Laurel, Norristown, Pottstown, Runnemede, Salem, Upper Darby, Upper Dublin, Upper Merion Township, Upper Providence, Vineland, Voorhees & Woodbury areas.