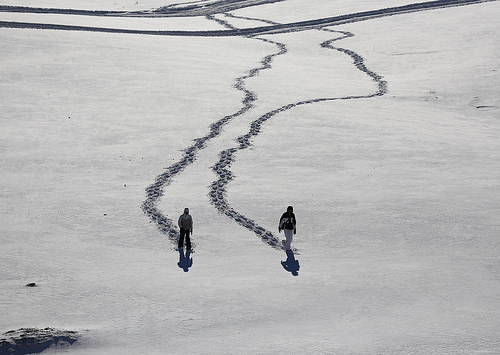 It's been a very mild winter and most of us are enjoying this spring like weather in February. We've barely had any snow this year and while I'm thankful, my children would've liked some more snow days! There are still a few more weeks of winter but the lack of the white stuff reminds of example which is often used in law school and in courtrooms to explain the concept of circumstantial evidence—footprints in the snow
Circumstantial evidence is a critical concept in criminal defense and often one that clients fail to understand. Some clients actually get furious when attorneys try to explain it! One of the most common complaints that we receive from clients is that their criminal case should be thrown out or dismissed because of insufficient evidence. Many people assume that the prosecution needs to produce an eyewitness to prove charges beyond a reasonable doubt—WRONG! The footprints in the snow example is good way to explain how the lack of an eyewitness, doesn't necessarily mean that an event didn't occur or a crimes wasn't committed. The example that is often used is that on a particular evening you go to bed while it was snowing. When you awoke, there was snow on the ground and footprints across your lawn. You didn't see a person walk across your lawn and you didn't even hear the person, but the footprints provide circumstantial evidence that this event occurred.
In most criminal cases, especially those involving illegal drugs, guns and even DUI, police make an arrest based on circumstantial evidence. With a drug case involving the possession of drugs or narcotics with the intent to distribute or deliver, circumstantial evidence such as a large quantity of drugs, money, and drug paraphernalia (bags, twist ties, scales) is often what the prosecution (assistant district attorney –ADA) uses to prove their case along with expert testimony regarding those items. A case involving an illegal gun or firearm, circumstantial evidence such a DNA (not necessarily fingerprints) found on the weapon or gunshot residue on clothing or hands are all forms of circumstantial evidence. A case involving drunk driving (DUI), circumstantial evidence are keys in the ignition while the defendant is sitting next to vehicle or the person's wallet on the seat of the car following an accident. Obviously, all of these examples are open to attack from your criminal defense lawyer but my point is, however, that circumstantial evidence is sometimes enough to prove a person guilty beyond a reasonable doubt.
Please don't assume that because police or some other eyewitness didn't actually observe the commission of a crime that the prosecution has a weak case.   A large number of criminal cases don't have eyewitnesses and many of these cases end with convictions. If your criminal case involves a prosecutorial circumstantial evidence theory, your lawyer must be ready for it. One strategy that I recommend is arguing what the prosecution failed to argue rather than simply arguing that the defense witnesses are more credible. Frequently prosecutors and assistant district attorneys will ignore alternative theories that can explain away circumstantial evidence and establish reasonable doubt. While something like footprints in the snow may be difficult to explain, the types of footprints and the pattern of the prints, for example, may all good areas for your attorney to explore during cross examination.
If you would like to learn more about criminal defense strategies and tactics, I encourage you to visit my free download section and subscribe to my free monthly newsletter.   If you have a particular question, email me at Alfonso@gambonelaw.com and I'll try to provide you with the best explanation based on my over a decade of experience representing people in your situation.
Contact Our Criminal Defense Lawyers in PA & NJ
Please click here to contact our Philadelphia criminal defense lawyers. We offer free case reviews and serve the following areas in Pennsylvania and New Jersey,  Atlantic City, Camden, Cherry Hill, Chester, Conshohocken, Doylestown, Media, Norristown, Philadelphia, Pottstown, Salem, Upper Darby, Upper Merion, Upper Providence, Vineland & Woodbury areas.