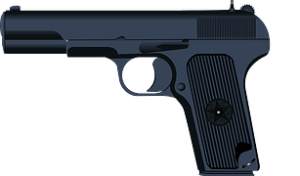 Our law firm is based in Philadelphia but we represent clients on both sides of the Delaware River in Pennsylvania and New Jersey.  As I have written on countless occasions, the law is very different in both jurisdiction starting with how they refer to themselves…"The State" as opposed to "The Commonwealth." (which only Pennsylvania, Virginia, Kentucky, and Massachusetts still call themselves but there is no real difference in terms of constitutional protections)
While Pennsylvania maintains its Uniform Firearms Act, New Jersey governs the use and handling of guns and firearms through its Graves Act.  If you or a friend is charged with a gun crime in New Jersey here are 5 things that you need to understand
 The general policy in New Jersey is to seek a mandatory term of parole ineligibility absent extraordinary circumstances!
The Garden State's general policy toward illegal handguns and firearms is the "promise of imprisonment", rather than rehabilitation.  This means state prison as opposed to probation, house arrest or even county jail with work release.  Originally the Graves Act imposed a 3 year term state prison sentence but now the law New Jersey calls for a mandatory 42 month state prison.  New Jersey amended the Graves Act in 2013 to increase the mandatory minimum term to 42 months.
 Despite a mandatory minimum sentence, an accused person may still seek a waiver of the mandatory minimum sentence requirement of state prison.
Under NJSA 2C:43-6.2, an individual charged under the Graves Act is eligible for full waiver to a probationary term rather than a custodial sentence where the mitigating factors, as defined by NJSA 2C:44-1, substantially outweigh the aggravating factors. Even if a person isn't eligible for a full waiver, he or she may be eligible for a partial waiver which would reduce mandatory 42 month prison sentence to a one year term. For a partial waiver, the prosecutor must only determine that the aggravating factors applicable to the offense and the offender himself do not outweigh the applicable mitigating circumstances.
 Police in New Jersey don't need a search warrant to search your car if they have probable cause to believe that it contains a gun or firearm
New Jersey and Pennsylvania follow the federal standard with regard to the search of a vehicle following a police stop. The 4th Amendment to the United States Constitution requires that any search and seizure of a person's property be done pursuant to search warrant.   The Pennsylvania (Article I, Section 8) and New Jersey (Article I, Paragraph 7)
In a recent New Jersey Supreme Court decision (State v. Witt), however, the Court like Pennsylvania, specifically stated that "the Automobile exception to the Fourth Amendment's warrant requirement authorizes police officer to conduct a warrantless search of a motor vehicle if it is readily mobile and the officer has probable cause to believe that the vehicle contains contraband or evidence of an offense.
 It is extremely difficult and nearly impossible to obtain a permit to carry a handgun in New Jersey as it is a "may issue" jurisdiction. 
Unlike Pennsylvania, most individuals aren't able to obtain a license to carry a handgun in New Jersey. New Jersey is known as a "may issue" state similar to New York, Delaware, Massachusetts, and Connecticut.  Pennsylvania is a "shall issue" state.  Any person who wants to carry in the State must make an application to the New Jersey State Police or local law enforcement. In addition to this application, the person must submit the names of 3 "reputable persons" who have known the applicant for 3 years and who can certify that the person is of "good moral character and behavior."
Further, the applicant needs to obtain a permit to purchase a handgun or a Firearm Purchaser Identification Card. The applicant must also demonstrate "thorough familiarity" with the safe handling and use of a handgun through an approved firearms training course.
Finally, the applicant must show a justifiable need to carry a handgun. The applicant must indicate this need in a written certification under oath. The need must show in detail the following:
An urgent necessity for self- protection
specific threats or previous attacks which demonstrate a special danger to the applicant's life that can't be avoided by other than the issuance of permit to carry
Possible corroboration of threats/violence – Police Reports of previous incidents
 If you're charged with a gun crime in New Jersey, you are technically eligible for Pre Trial Intervention but most prosecutors will usually not agree to it. 
While prosecutors can't categorically deny a PTI application, they don't normally consent to a PTI disposition unless the case involves a extraordinary or compelling circumstances.  The following would qualify for these types of circumstances:
no prior criminal history,
person had obtained the weapon lawfully in another state,
the gun was unloaded
and the gun posed no risk to the public.
For more great information on criminal defense in Pennsylvania and New Jersey, I encourage you to keep reading my blog and visit my free download section which contains my free books and videos