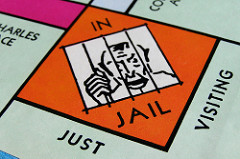 Its Sunday Morning in February. Is your family member or friend stuck in jail because of a high bail? Has your criminal defense lawyer made the proper argument to the court?
No person wants to go jail or much less stay there until their criminal case is resolved. Bail is obviously a major concern for someone facing criminal charges because it will determine whether he can remain out of custody pending trial. Your criminal defense lawyer needs to be ready with a bail argument regardless of the charge but bail is sometimes the highest in drug and gun cases along with crimes of violence.
With exception to those charged with capital offense (i.e. Murder) or those facing life sentence, everyone charged with a crime entitled to bail in Pennsylvania. This right is guaranteed by the 8th Amendment to the United States Constitution as well as Article I, Section 14 of the Pennsylvania Constitution. Bail is cash or the cash equivalent used as security to ensure that a person who is released pending trial will appear at all future court proceedings and also comply with any other conditions the court may impose.
Some people believe that bail is meant to punish someone but it's not. Remember that everyone is innocent until proven guilty! The primary purpose of bail is to secure a person's presence at trial and to protect society from an alleged dangerous individual. The Pennsylvania and the United States Constitution prohibit a state or the federal government from imposing an excessive amount of bail.
Bail is set after a person is charged with a crime and well before trial. This is the main reason why bail is so important because if, you're unable to post bail, he or she will have to remain in jail. Prior to setting bail, the bail authority (usually a judge or bail commissioner will listen to arguments from the defense and prosecution based on the following factors:
The nature of the offense and any mitigation or aggravation regarding it
The defendant's employment history and financial condition
The defendant's family relationships (i.e. children)
The length and nature of the defendant's residence in the community and past residence
The defendant's age, reputation, and mental condition
The defendant's history regarding his or her failure to appear in the past
The defendant's prior criminal history
Any other factors the court may find relevant in this analysis
Your criminal defense lawyer should argue these points at your initial bail hearing and every subsequent bail petition hearing if it remains an issue.
For more information on criminal defense, check out my free resource section!
Contact Our Criminal Defense Lawyers in PA & NJ
Please click here to contact our Philadelphia criminal defense lawyers. We offer free case reviews and serve the following areas in Pennsylvania and New Jersey,  Atlantic City, Camden, Cherry Hill, Chester, Conshohocken, Doylestown, Media, Norristown, Philadelphia, Pottstown, Salem, Upper Darby, Upper Merion, Upper Providence, Vineland & Woodbury areas.