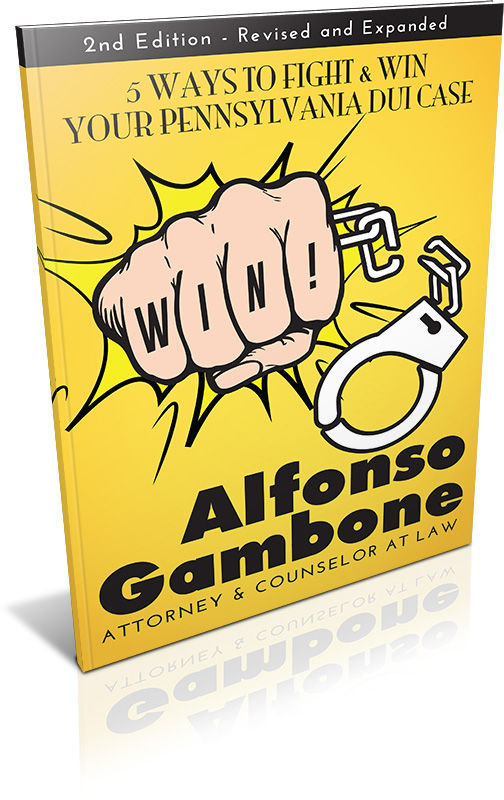 Our law firm defends drunk and drugged driving cases in Pennsylvania (DUI) and New Jersey (DWI) where we often represent individuals with prior drunk driving convictions. Before discussing non trial diversion and post conviction option, keep in mind that there are a variety of defense available at a DUI trial and I encourage you to download a copy of my free book—5 Ways To Fight & Win Your Pennsylvania DUI Case.
Pre-Trial Diversion DUI Benefits
Unlike 1st time offenders in Pennsylvania, repeat offenders aren't eligible for pre-trial diversion programs like Accelerated Rehabilitative Disposition (ARD). New Jersey doesn't have a pre-trial diversion DWI program because drunk driving isn't a considered a criminal offense in the Garden State. In Pennsylvania it is ungraded misdemeanor offense under Section 3802 of the Pennsylvania Vehicle Code (Title 18).
This Pennsylvania pre-trial diversion program not only eliminates the possibility of a criminal conviction, it also drastically reduces the length of a possible license suspension for more serious DUI offenses under Section 3802(b), (c), and (d).
Normally, a person convicted as a first time offender under these sections would not only face a 12 month license suspension but a mandatory minimum jail sentence of 48-72 hours of incarceration, along with a fine ranging from $500 to as much as $5,000. The ARD program is therefore an excellent alternative these cases provided that the person is eligible for the program.
Repeat offenders, however, are not eligible for this program. In addition to this ineligibility, they face not only a license suspension but also the possibility of substantially more jail time (5 days to as much as 1 year – 3rd offense, highest tier DUI). Under Subsections b, c, and d, of Section 3802, these persons face an 18 month license suspension. Given these increased penalties, it is important that your criminal DUI attorney understand Pennsylvania's "10 year look back period" for DUI's.
Pennsylvania's 10 Year DUI Look Back Period
In Pennsylvania, the Commonwealth will only consider a person a "repeat offender" if the 2nd DUI occurs within 10 years of the prior DUI. This is very important and the clock begins to run from the time that the person is sentenced on the 1st DUI until the time that he or she is arrested on the 2nd DUI.
For example, if you' re charged (arrested) for your first DUI on March 30, 2007, but actually sentenced on June 1, 2008, the clock begins to run from the June sentencing date. If you are arrested for a 2nd DUI on May 1, 2018, it would be considered your 2nd offense for the purposes of increased penalties. If, however, you are arrested for your 2nd DUI in July 1, 2018, that offense would be considered your 1st offense because it occurred 10 years after your previous DUI.
Please keep in mind that in most situations the date of a conviction at trial or a plea to a DUI charge will not be the same date as a sentence. In most cases, a judge in Pennsylvania can't sentence a person following a DUI conviction or plea without a CRN (Court Reporting Network) drug and alcohol evaluation. This evaluation is used to determine the level of a person's addiction to drugs or alcohol and will normally take 4-6 weeks to complete.
Pennsylvania's New Ignition Interlock License Law
This 10 Year DUI Look Back is very important not only for increased DUI penalties but also for Pennsylvania's new Ignition Interlock Law. Under the new law (Title 75 § 1547), a person convicted of DUI under Subsections b, c, and d, is immediately eligible for an ignition interlock license. Prior to this law, these individuals faced a 12 month license suspension even if were not eligible for the pre-trial diversion programs like ARD. Keep in mind that even if your 2nd DUI occurs beyond the 10 year look back period, the DA's office may not agree to an ARD disposition as the program is discretionary and not an entitlement.
While you aren't eligible for any diversion programs, you would still be eligible for the ignition interlock which will allow you to keep your driver's license despite the conviction. While repeat DUI offender can still receive an ignition interlock license, they won't qualify until serving at least 6 months of a driver's license suspension for convictions which occur under Section 3802 Subsections (a) 1 with accident, and (b), and 9 months for convictions which occur under subsections (c) and (d). It is important, therefore, to understand the 10 year look back period and how it will affect possible DUI sentences following a conviction and ignition interlock eligibility.
DUI Trial Options
Obviously, if you're charged with DUI or DWI in New Jersey or Pennsylvania, you must consider all of your pre-trial and trial options, which would include motions to suppress evidence and defenses focused on establishing reasonable doubt with regards to the elements of the charges. You should never blindly accept a diversion disposition of your DUI/DWI matter without understanding your options
For more information on drunk driving, I encourage you to visit my free download section and download a copy of my book, Ten Ways to Fight and Win Your Pennsylvania DUI Case.