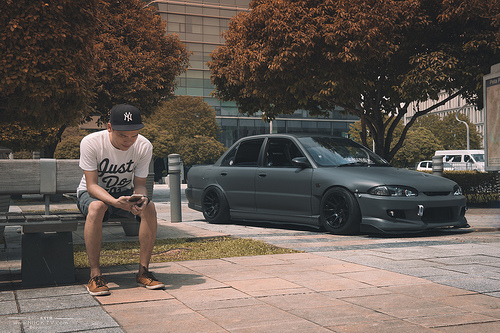 Any person who drives on Pennsylvania's roads and streets is subject to a driver's license suspension for violating Pennsylvania's vehicle code (Title 75). Young drivers (persons under the age of 21) however are subject to additional suspensions for driving and non-driving offenses. In Pennsylvania, there are five (5) specific offenses that will suspend a young driver's license and it's important that parents and these drivers themselves understand each of them because they could not only affect a driver's license status but also car insurance rates. In no particular order, the offenses are as follows.
Any person who is 21 years of age or younger will have his/her driver's license suspended for six (6) months if they are convicted of terroristic threats or adjudicated delinquent for violating Section 2706 (terroristic threats). This charge must pertain to an event that occurred on school property or during a school sponsored activity. A second offense carries a one (1) year suspension and a third offense carries a two (2) year suspension.
Speeding 26 miles per hour or more over the speed limit.
Any driver under the age of 18 who is convicted of driving 26 miles per hour or more over the posted speed limit will have his/her license suspended for 90 days for a first offense and 120 days for a second offense.
The accumulation of 6 or more points on a driving record
Any driver who accumulates 6 or more points on his or her driving record before he or she reaches the age of 18 is subject to a 90 day license suspension for a first offense and 120 suspensions for a second or third offense.
Reportable Accidents
PennDOT has the discretion to impose a suspension upon any junior driver (16 – 17) who was convicted of any violation of the vehicle code, if the junior driver is involved in a reportable accident where PennDOT believes that the junior driver is partially or fully responsible for the accident. The department has the ability to suspend a driver's license for up to 90 days.
A minor cannot drive or operate a motor vehicle after imbibing (drinking) a sufficient amount of alcohol such that their BAC is .02 or higher within 2 hours after the minor has driven, operated, or been in control of a car (notice that this language specifically goes beyond simply driving a car.) A person under the age of 21 obviously isn't permitted to drink any type of alcohol so in addition to a license suspension for DUI (12 months for first offense) a convicted person will also will also face an additional license suspension for 90 days for underage drinking (a summary offense in Pennsylvania.) If an underage driver is convicted, a judge could run the sentence consecutively (as opposed to concurrent) to the DUI suspension which means a person could lose their license for up to 15 months for one incident. For more information about DUI, read my free book on it.
In addition to these 5 categories, I also encourage you to read my other articles on indefinite suspension letters from PENNDOT and license suspensions for drug offenses in Pennsylvania. Also read my article on drag racing! If you are charged with any of these offenses its important that you never plead guilty but hire a criminal defense lawyer to either contest the charges at trial or at the very least attempt to negotiate a more favorable disposition to avoid the license suspension. If you have more questions about criminal defense I encourage you to read my books, watch my videos, subscribe to my monthly newsletter.