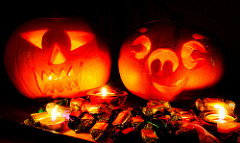 It's Halloween and the day is dedicated to all things scary and creepy mixed with piles of candy and treats. The Pennsylvania Department of Transportation (PENNDOT ) however, enjoys sending scary notices all year and there isn't an Almond Joy or a Reese with these letters. The most common scary letter is the "indefinite license" suspension letter under Section 1533 of Pennsylvania's Vehicle Code (Title 75).
Under Section 1533, PENNDOT can suspend your drivers' license indefinitely if you fail to respond to a citation, a summons, or to pay any fines imposed as the result of a ticket or citation. Before PENNDOT can issue this type of suspension, the Court (also called the issuing authority) must provide you with a 15 day notice. The good news is that an indefinite suspension under Section 1533 is probably one of the easiest violations to correct. You can stop the suspension by simply paying the fine and the court cost. If you don't have the money to do this immediately, you can also enter into a payment agreement to pay fines and costs. If you do enter into a payment plan, it's important to understand that PENNDOT will reinstate your suspension if you fail to abide by the terms of your agreement.
While it's easy to correct a Section 1533 suspension, I can't stress the importance of speaking to a lawyer before you simply plead guilty and mail in the costs/fines. There are number of violations which could result in an immediate driver's license suspension. I always advise my client never to plead guilty without understanding the consequences of that decision. Understanding the consequences doesn't mean asking the PENNDOT representative or the person answering the phone at the district court if this is a good decision. These people probably aren't lawyers and, more importantly, could care less about your license suspension. They want you to choose the path of least resistance because it makes their lives easier. Also, don't bother asking your lawyer friend who spend days reviewing contracts!
Remember that most traffic violations result in points against your license. If you accumulate more than 6 points against your license (regardless of how you do it) PENNDOT will make you attend a driver improvement school and/or take a test regarding your knowledge of the rules of the road. If you fail to attend this class or take the exam, it will result in an indefinite suspension until you complete these requirements. Points are removed against your license at a rate of 3 points per year.
The following are the most common vehicle violations that will result in an immediate license suspension
Section 3736 – Reckless Driving – 6 month Suspension
Section 1543 – Driving Under Suspended License –1 year additional suspension
Section 3734—Fleeing or Alluding Police (Driving without lights to avoid identification)—6 month license suspension
Section 3802—Driving While Intoxicated (DUI)—Read more
Section 1532(b)—Carless Driving—6 month license Suspension
Section 1532(a)—Homicide by Vehicle—3 year license suspension
Section 3345—Passing a School Bus—automatic suspension in addition to other suspensions
Nasty letters from PENNDOT are scary but save the scary for Halloween. Call our office and speak to me about your driver license issue. I also encourage you read my other article on driver license suspension and underage drinking. Finally, our offense handles serious criminal offenses on a daily basis and I have written 2 books on this topic and recorded over 30 videos. These are all free so take advantage of them! Happy Halloween and I look forward to seeing you soon!
Contact Our Criminal Defense Lawyers in PA & NJ
Please click here to contact our Philadelphia criminal defense lawyers. We offer free case reviews and serve the following areas in Pennsylvania and New Jersey,  Atlantic City, Camden, Cherry Hill, Chester, Conshohocken, Doylestown, Media, Norristown, Philadelphia, Pottstown, Salem, Upper Darby, Upper Merion, Upper Providence, Vineland & Woodbury areas.