While Second Amendment to the United States Constitution gives us the "right to bear arms" Pennsylvania, New Jersey and every other state can put restrictions on that right. Unlike other amendment, the 2nd Amendment isn't totally binding on individual states through the 14th Amendment's Due Process Clause.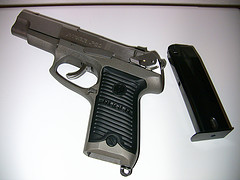 Despite this Constitutional right, Pennsylvania and other states like New Jersey can prohibit a person from possessing a weapon if he or she is convicted of certain offenses either in that state or outside of it. If a person is convicted of one of these offenses he or she may not possess, use, control, sell, transfer, or obtain a firearm. Pennsylvania, under Section 6105 of its Uniform Firearms Act, provides a person with 60 days from the date of conviction to sell or transfer their weapons. A person who violates Section 6105 (VUFA) commits a felony of the second degree and may be charged with other felonies such as violating Section 6106 (VUFA) (carrying a firearm without a license, except if it's in your home or place of business), 6110.2 (VUFA) (possession of firearm with altered or obliterated serial numbers), and 6108 (VUFA) (carrying a firearm on the city streets of Philadelphia) which is a misdemeanor charge. A person violates section 6105 if they possess a weapon and have been convicted of any of the following types crimes:
Member of a Corrupt organization
Murder
Manslaughter
Involuntary manslaughter
Aggravated assault
Stalking
Kidnapping
Unlawful restraint
Involuntary deviant sexual intercourse
Rape
Arson
Burglary
Robbery
Extortion
Receiving stolen property if charged as a felony
Making false reports to law enforcement if it involved the theft of a firearm
Witness intimidation
In addition to these offenses a person who has been convicted under the Controlled Substance Drug, Device, and a Cosmetic Act (aka – Possession with the Intent to Deliver – PWID) with the equivalent federal statute or a statute of a different state is also prohibited from carrying a firearm if the maximum punishment exceeds two years. A person is also prohibited under section 6105 if they have been adjudicated incompetent or involuntarily committed. While Pennsylvania can prohibit convicted felons along with other potentially violent people from possessing a firearm it can also prohibit drunk drivers with three or more DUI convictions.
In Pennsylvania, if you are convicted of DUI on three or more separate occasions within a five (5) year period the Commonwealth can deny you a weapons permit. In addition to denying you a permit if you were to carry a firearm with three (3) or more convictions for a DUI you can be found guilty of section 6105, 6106, and 6108 of the Uniform Firearms Act. Pennsylvania can pose these restrictions despite the 2nd Amendment and the Due Process Clause of the Fourteenth Amendment. These restrictions are permissible under Pennsylvania law and don't violate United States Constitution. The United States Supreme Court in the case of McDonald v. Chicago ruled that the 2nd Amendment applies to state and local governments. The court, however, didn't explicitly state that the "privileges or immunities" Clause of the Fourteenth Amendment applies to the state.
The Privileges or Immunities Clause states that "no state should make or enforce any law which shall abridge the privileges or immunities of citizens of the United States". Since the Supreme Court did not explicitly say that this clause applies to individual states, Pennsylvania along with other jurisdictions, like New Jersey, may make laws restricting the possession and/or use of firearms. This Supreme Court decision, however, does allow the person to keep a firearm in their home without any restrictions. In the McDonald case, the City of Chicago attempted to impose a city wide band on handguns which the Supreme Court found unconstitutional.
While the State of Illinois and can pass laws or ordinances restricting the use of handguns it cannot eliminate them. The McDonald case dealt with a 76 year old man who wanted to keep firearms in his home. The City of Chicago however, since 1982, had prohibited handgun ownership without registrations. Chicago had not approved a gun registration since 1982 and therefore to own a gun, even in your home, was illegal. If you have questions about your constitutional rights or criminal defense, call our office at (215) 240-7377. You may also want to read my book, Commonwealth v. You; it's over 100 pages to commonly asked questions about criminal defense and its FREE.