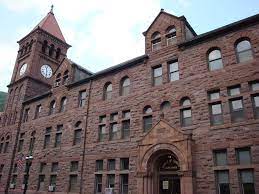 When facing criminal charges of any kind, which includes drug possession and DUI charges, in the Jim Thorpe, Pennsylvania area you are at risk of losing a lot including your job, family, child custody, driving privileges and your freedom. Rather than face this alone, or ignore the charges, you need the help of a skilled Pennsylvania criminal defense attorney serving the Allentown, Jim Thorpe & Philadelphia areas. They will get to know you, as well as every aspect of your case, so a sound defense strategy can be devised in an effort to get you the best possible outcome. Please click here to contact our Jim Thorpe Pennsylvania lawyers for a free case review. You can also visit @gambonelaw for a free, and confidential, case evaluation.
Serving all of PA & NJ including Adams County, Atlantic County, Berks County, Bucks County, Camden County, Carbon County, Dauphin County, Delaware County, Gloucester County, Lancaster County, Lebanon County, Luzerne County, Montgomery County, Salem County, Schuylkill County, Sullivan County, Susquehanna County, Wayne County & York County.
Pennsylvania Criminal Defense Lawyers Offering Comprehensive Strategies
As a former military JAG officer, Norristown, Pennsylvania defense attorney Alfonso Gambone has seen most every type of criminal case possible, ranging from domestic violence and robbery to embezzlement and felony narcotics cases in Pennsylvania. Please do not hesitate to contact him if you want compassionate, aggressive, experienced criminal defense against your charge involving:
DUI: Our Reading Pennsylvania DUI defense lawyers represent individuals in Pennsylvania facing first offense DUIs or multiple offense DUIs. We do all we can to limit consequences in these cases, including pursuing first-time offenders programs including DUI court, Veterans Court and the Pennsylvania ARD Program among others .
Drug crimes: We handle state and federal drug charges, including charges involving possession or distribution of marijuana, heroin or cocaine, prescription drug offenses, or manufacturing or distribution.
Retail theft: Shoplifting is a crime that, if convicted, will follow you through your life, as theft crimes affect your ability to get jobs, housing and more. Work with our Blue Bell, PA lawyers to limit or completely avoid these consequences.
Mortgage fraud: From falsifying loan documents to inflating property appraisals, we defend clients facing all forms of mortgage fraud in Pennsylvania. We know the government acts quickly to prosecute these cases, so we will get to work immediately to protect your rights and clear your name.
Tax evasion: Tax fraud and tax evasion charges are incredibly serious in Pennsylvania. You must act swiftly to ensure you have an advocate by your side as the government begins its search into your financial records. We know what the prosecution can and can't do in these cases, and will ensure your interests are represented at all times.
Homicide: Murder cases require seasoned trial attorneys who are not afraid to fight as long or as hard as necessary. Our experience on both sides of the law allows us to fight the state's tactics and find holes in its arguments.
Vehicular manslaughter: Homicide by vehicle, or vehicular manslaughter, is a felony crime. A felony conviction will lead to time in prison and long-term consequences. Protect your rights and your future with our help.
Involuntary manslaughter: This form of manslaughter can be a felony or misdemeanor depending on the age of the person who died. Let us fight hard to get these charges dismissed or, in the least, diminished so you can make the most of your future.
White collar crimes: From embezzlement to identity theft and forgery, we represent clients who have been charged with all varieties of white collar crimes. Our trial preparation skills along with our understanding of the special nuances involved in these cases may give you the leg up you need to beat these charges.
Federal fraud: Our work in Pennsylvania as former prosecutors gives us the unique background required to fully understand the severity of the federal fraud crimes against you. We can put our experience to work in attacking your charges and undermining the prosecution's case. These tactics can help to limit the consequences you may be facing.
Juvenile cases: It is unfortunate that many young individuals face a lifetime of consequences due to poor legal representation. Our Hazleton, PA criminal defense attorneys strive hard to find alternatives to the criminal court system to help members of the younger generation get the right help they need to set in place a strong future.
Firearm crimes: Pennsylvania prosecutors are tough on gun charges, including those involving carrying a firearm without a permit and carrying a concealed weapon. You want to ensure you have a defense team by your side that will be just as tough in protecting your rights now and well into the future. You'll find the effective legal representation you need in our Stroudsburg, Pennsylvania defense attorneys.
Representing Those With Mental Health Issues
Individuals with mental health issues, such as veterans with PTSD, who face criminal charges have much to lose without the right representation in place. At Gambone Law our Adams County, PA criminal lawyers take special care to ensure we follow the right paths for these clients. This path must include a strong defense strategy. They can provide this, as we know which options are available and what to expect in court. The right path must also include proper care and support to ensure that our clients get the help they need to improve their lives. Our Philadelphia, Pennsylvania criminal defense attorneys work with our clients and their support network to identify and pursue the appropriate resources to give our clients the best representation and advocacy possible.
Please Contact Our Jim Thorpe Pennsylvania Lawyers Right Now
Our Carbon County, PA lawyers encourage you to connect with us for a free case evaluation. With offices in PA, NJ as well as via Zoom and other platforms, our Doylestown criminal defense attorneys serve those facing criminal, DUI and DWI charges throughout PA & NJ. Please click here to arrange a no cost case examination.
Serving the accused throughout all of Eastern Pennsylvania and New Jersey including the Allentown, Bethlehem, Bloomsburg, Blue Bell, Broomall, Carlisle, Chester, Danville, Doylestown, Easton, Gettysburg, Hazleton, Honesdale, Jim Thorpe, Lancaster, Laporte, Lebanon, Media, Milford, Montrose, New Bloomfield, New Hope, Norristown, Philadelphia, Pottstown, Pottsville, Reading, Scranton, Stroudsburg, Sunbury, Upper Darby, West Chester, Wilkes-Barre, Williamsport & York areas.