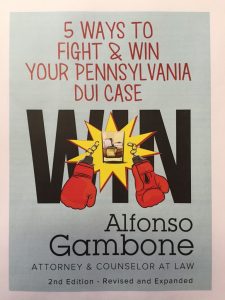 On May 25, 2016 Governor Tom Wolf signed a new DUI Driver Ignition Interlock law which makes the ignition interlock device mandatory for certain first time DUI offenders. This may sound like bad news for Pennsylvania drivers convicted of a DUI but it's actually a win for these individuals and the Commonwealth's economy. There are nine (9) types of DUI offenses in the Commonwealth but, in most situations. a person is charged with at least two (2) because they're not mutually exclusive. You can commit, for instance, a violation of Title 75, Section 3802(a)(1) – general impairment (BAC over .08 but less than .10), 3802(b) (BAC of .10 to .159), and 3802(c) (BAC greater than or equal to .16), depending on the circumstances surrounding the DUI. Most drunk driving offenses are based on a specific BAC level (blood alcohol content) and so is Pennsylvania's new ignition interlock law.
The new law now requires that a driver who is convicted of DUI with a BAC between .10 and .159 (Section 3802(b)) must have the interlock device installed on their vehicle for 1 year instead of the 1 year license suspension. While the cost of this device is $650 to $1,100, there are monthly payment plans available. This new law is an economic life line to many DUI offenders who would otherwise lose their driver's license for the year which could obviously jeopardize a job, an education plan, and other opportunities. Prior to the governor signing the new law, Pennsylvania was one of only 3 states that didn't have this type of DUI legislation. Despite the new law, DUI remains a criminal offense that will substantially increase a person's car insurance rates and, more importantly, carry with it a potential mandatory jail sentence, and mandatory fines. This is why a good DUI defense is so important and your attorney must focus on trial and pre-trial issues.
A pre-trial strategy focuses on issues such as reasonable suspicion and probable cause for the initial traffic stop followed by probable cause to arrest a person for drunk driving. These issues are handled in a Motion to Suppress Evidence which, if successful, could force the Commonwealth (through the assistant district attorney) either to withdraw the case against you or have the judge dismiss it for lack of evidence.
At the trial level the issue is whether the Commonwealth can establish beyond a reasonable doubt that you were in control of the vehicle, impaired, and, in some cases, had a specific BAC level. Unlike in a motion to suppress, the burden of proof at trial is much higher.
For more information on these topics I encourage you to read my book on DUI defense which is available in our free download section. In this book you will learn and understand the following:
Enjoy your Memorial day weekend and be careful on the roads.
Contact Our Criminal Defense Lawyers in PA & NJ
Please click here to contact our Philadelphia criminal defense lawyers. We offer free case reviews and serve the following areas in Pennsylvania and New Jersey, Atlantic City, Camden, Cherry Hill, Chester, Conshohocken, Doylestown, Media, Norristown, Philadelphia, Pottstown, Salem, Upper Darby, Upper Merion, Upper Providence, Vineland & Woodbury areas.