The word "accident" implies that someone shouldn't face criminal charges for such an incident. This, however, is simply incorrect. In Pennsylvania, a person cannot only lose their driver's license as a result of a traffic accident but also face misdemeanor and felony charges from one depending upon its severity. Before discussing criminal charges, it's important to understand that driving in Pennsylvania, like any other state (i.e. New Jersey), is a privilege and not a right. I can't tell you how many of my clients and even some of my friends get this wrong!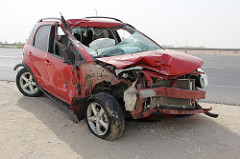 The Pennsylvania Traffic Point System and License Suspensions
Pennsylvania, like other jurisdictions, maintains a point system in which the Department of Transportation (PennDot) will take "corrective action" when a driver receives 6 or more points against his or her driver's license. Three (3) points are removed every 12 months in which a person does not incur any other traffic violations or is not under suspension or revocation for a previous offense. Once a driving record is reduced to 0 points, and remains at zero, for 12 consecutive months, any future points are treated as first accumulation points.
Regardless of the point system however, a person's driving privileges will be suspended in Pennsylvania for any of the following offenses:
DUI (exception 3802 without accident)
Any felony offense involving a vehicle
Homicide by vehicle
Reckless driving
Racing on highways (drag racing) (Summary Crime)
Fleeing or eluding a police officer (misdemeanor offense)
Driving when license is already suspended or revoked
Driving without lights to avoid identification
Failure to stop after a crash or accident (hit and run offense)
A second or additional offense of driving without a driver's license within a 5 year period
Failure to stop for a school but with its red lights flashing and stop arm extended (60 day suspension)
Failure to stop or comply with a railroad crossing gate or barrier (30 days suspension)
Underage drinking (car involvement isn't necessary)
With exception to underage drinking, a suspension for any of the above offense will show 5 points on the driver's record after the suspension, regardless of the number of points that appeared on the record before it.
Beyond The License Suspension—Mandatory Jail Sentences 
A driver's license suspension however, isn't the only consequence of a serious traffic offense resulting in property damage, personal injury, or death. In Pennsylvania, under Section 3742 of the vehicle code (Title 75), a driver commits a misdemeanor of the first degree if he or she causes an accident resulting in injury of any person. If the victim suffers a serious bodily injury (injury to a major organ), the driver commits a felony of the third degree and faces a mandatory minimum 90 day jail sentence and a mandatory $1,000.00 fine. If a victim dies as a result of the accident, the driver commits a felony of the 2nd degree and must serve a mandatory minimum 3 year state prison sentence and pay a mandatory $2,500.00 fine. This Section is different from Section 3743, which is an accident involving damage to an attended vehicle or property which does not result in any type of personal injury. Here, a convicted driver commits a misdemeanor of the 3rd degree.
Drugs, Alcohol, Serious Bodily Injury, Death & Mandatory Jail Sentences 
If a person is under the influence of drugs (legal or illegal) or alcohol (DUI) at the time of an accident which results in serious bodily injury, they can also be charged with a felony of the 2nd degree under Section 3735.1. Further, under Section 3735, if a victim dies as the result of an accident involving a DUI, the driver commits a felony of the 2nd degree and faces a mandatory 3 year jail term, which is consecutive for each victim.
Even if a serious accident isn't' the result of drunk driving, a criminal defendant faces a felony of the 3rd degree charges if the accident results in a death (homicide by vehicle—Section 3732). This is a separate criminal charge from an accident involving a death or personal injury. If the prosecution is proceeding under this charge; it must indicate that in the indictment or the information when it commences prosecution. If a person is convicted of this crime and the incident occurred in an active work zone, there is an enhanced sentencing consequence. Similar to the charge of homicide by vehicle, a person can also be charged with aggravated assault by vehicle in Pennsylvania under Section 3732.1, which is a felony of the third degree, but again the prosecution must indicate its intent to proceed under this charge at the indictment or information stage of the prosecution.
For more great information on traffic related criminal offenses and driver license suspension keep reading our blog and visit the free download section for our free books
Contact Our Criminal Defense Lawyers in PA & NJ
Please click here to contact our Philadelphia criminal defense lawyers. We offer free case reviews and serve the following areas in Pennsylvania and New Jersey,  Atlantic City, Camden, Cherry Hill, Chester, Conshohocken, Doylestown, Media, Norristown, Philadelphia, Pottstown, Salem, Upper Darby, Upper Merion, Upper Providence, Vineland & Woodbury areas.