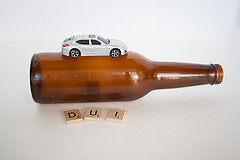 In Pennsylvania, most driving under the influence (DUI) charges carry with them a mandatory minimum license suspension of 12 months. Repeat DUI offenders face an 18 month suspension in addition to a minimum 5 days in jail to up to 1 year as a mandatory minimum prison. While jail time is an obvious concern for many clients, they are also concerned about a license suspension from the Pennsylvania Department of Transportation (PennDOT).
It is important to understand that PennDOT is not a court but an administrative body which oversees driving and driver's licenses in the Commonwealth. The doctrine of merger is a legal concept which means that a court can't punish an individual for two convictions derived from one incident where one conviction is a lesser included offense of another. For example, simple assault is a lesser included offense of aggravated assault. A person can't be sentenced for aggravated and simple assault that arose from the same incident in the event that a judge or jury found them guilty. Remember that in a criminal court that evidentiary standard is always guilt beyond a reasonable doubt.
The doctrine of merger, however, also applies to civil matters specifically DUI license suspensions and PennDOT's ability to impose a longer period of suspension for a criminal conviction. The Pennsylvania Supreme Court, in Bell v. Commonwealth of Pennsylvania (2014) stated that the criminal doctrine of merger doesn't apply to driver's license suspensions. Under this ruling, therefore, PennDOT can impose a separate and consecutive suspension beyond what criminal statutes require. In the Bell case, the Supreme Court specifically stated that multiple suspensions based on convictions doesn't stop PennDOT from opposing separate and consecutive suspensions regardless of whether the criminal convictions merge for the purposes of sentencing.
For example, if a person is convicted under Section 3802 (C) (Highest Tier DUI-Alcohol) and Section 3802 (D) (highest Tier DUI-Drugs), PennDOT can impose an additional suspension for each conviction whereas these two charges would merge for the purposes of the criminal conviction.   The lack of merger also allows PENNDOT to impose a 5 year habitual offender revocation for repeat convictions within a certain time period.   In Pennsylvania, under  Title 75 Section 1542 (revocation of habitual offender's license), PENNDOT may revoke your drivers' license for five (5) years if you are convicted of three (3) of the following offenses, in any combination, over a period of five (5) years:
Driving Under the Influence
Driving While a License is Suspended or Revoked;
Voluntary or Involuntary Vehicular Manslaughter;
Accidents Causing Damage to property;
Felony Involving a Vehicle;
Reckless Driving;
Fleeing From a Police Officer; and/or
Failing to Stop When a Vehicle Involved in a Crash.
Further, each additional offense committed within the five (5) year span will result in an additional revocation of two (2) years. It's important to understand that the lack of merger could create a 5 year suspension from just one criminal incident depending upon its severity.  If you have questions about DUI and criminal charges, I encourage you to read one of my FREE books, watch my videos and subscribe to my monthly newsletter! 
Contact Our Criminal Defense Lawyers in PA & NJ
Please click here to contact our Philadelphia criminal defense lawyers. We offer free case reviews and serve the following areas in Pennsylvania and New Jersey,  Atlantic City, Camden, Cherry Hill, Chester, Conshohocken, Doylestown, Media, Norristown, Philadelphia, Pottstown, Salem, Upper Darby, Upper Merion, Upper Providence, Vineland & Woodbury areas.