Pennsylvania Child Endangerment DUI Lawyer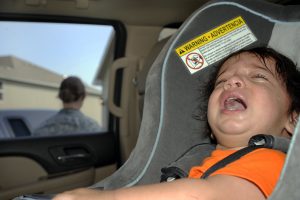 The courts and legal system take getting a DUI with a child in the car extremely seriously in the Commonwealth of Pennsylvania and New Jersey. Even if you have never been charged with DUI before, if you have a child in the car you may automatically be charged with a Felony DUI. You can also be charged with Child Endangerment. Prosecutors are also inclined to seek much more severe penalties i.e longer prison sentences in a DUI/Child Endangerment case. Having a child in the car while driving drunk can also jeopardize your ARD eligibility if it is your first DUI.
If you have been arrested and charged with DUI while having a child in the car it is in your best interest to retain a qualified Philadelphia Felony DUI Lawyer. Contact our Philadelphia DUI attorneys by clicking here. They have an office in Center City and serve the Bucks, Delaware, Montgomery & Philadelphia County areas as well as South Jersey. 
Possible Penalties Of A DUI With Child In The Car
A DUI with a child in the car is one of the most severe types of DUI's there are in New Jersey and Pennsylvania. Penalties can result in extended suspension of driving privileges, jail or prison sentences, fines, fees and court costs. More importantly, a Child Endangerment DUI conviction can result in a loss of child custody or change in child custody status. If you are facing a DUI/DWI while having a minor in the car it is very important you speak with a skilled Pennsylvania Child Endangerment DUI Lawyer immediately.
How Our DUI & DWI Defense Lawyers Can Help
In cases of DUI or DWI with a child in the car you need someone on your side fighting on your behalf. You need someone who can convey to the judge and prosecutor that you are not a criminal. You need an attorney who can make them understand that you just made a mistake during a moment of indiscretion. If you have a problem with alcohol and or drugs and want help we can get you the help you need. Our experienced NJ & PA DUI Attorneys will take the time to get to know you, your background as well as your case in a matter as serious as this.
Contact Our Defense Lawyers Handling Child Endangerment DUI & DWI Cases
The Philadelphia DUI attorneys at our firm have many years experience competently and successfully all types of DUI cases in the southeastern Pennsylvania and southern New Jersey areas. This includes DUI cases with a minor in the vehicle. Please remember that, if convicted, you could lose custody of your child. Do not take this chance. Contact our Pennsylvania DUI defense lawyers right away.
Serving the Abington, Atlantic City, Bala Cynwyd, Bensalem, Blue Bell, Bristol, Broomall, Cheltenham, Chester, Conshohocken, Doylestown, Horsham, Jenkintown, Lower Merion, Media, Norristown, Philadelphia, Pottstown, Upper Darby, Upper Dublin, Upper Merion & Upper Providence.